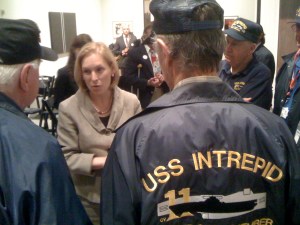 On the fifth floor of the Whitney Museum of American Art yesterday, in front of a giant Mark Rothko painting, Senator Kirsten Gillibrand and six grizzled veterans in USS Intrepid jackets, stood around talking about how young military men were being forced to serve too many tours of duty.
The group–along with several suited veterans from more recent wars–had assembled for a quick tour of the Whitney Biennial, to be followed by a press conference, announcing that 54 New York cultural institutions will offer free admission to servicemen and veterans over Memorial Day weekend.
"That's why the divorce rate is so high, and the suicide rate is up, because it's too much for them," said Ms. Gillibrand of the stretched armed services.
"Bring back the draft!" said one of the vets, who were all talking over each other.
Politely, Ms. Gillibrand said she'd prefer to cut back the number of tours, and offer better services and incentives for soldiers. "Hopefully we can sustain our all-volunteer service," she said with a smile.
As they waited, Ray Stone–the lone representative from World War II–pulled a book out of his bag, added her name over an inscription that was already there, and handed it to her.
"Is this for me?" she asked. It was Mr. Stone's own book: "My Ship!" The U.S.S. Intrepid.
"That's the day he enlisted," said another vet pointing at the jacket photo of a scruffy Mr. Stone.
"Handsome you!" she said.
"I showed up on watch and my officer said, 'Stoney, you didn't stand close enough to your razor this morning.' So he made me–"
"He made you shave again!" she said with a laugh.
"No, he told me not to shave. But I got a little tipsy in Hawaii and had a Chinese lady barber–"
At that, Ms. Gillibrand's press person quickly, apologetically pulled her away, so the tour could start.