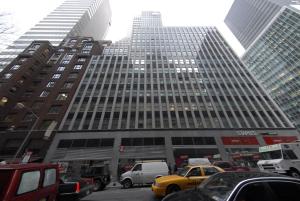 Kaye Scholer, the international law firm that has successfully defended Viagra against claims that it causes stroke and priapism, and which is housed in a kind of dumpy office building with a byzantine ownership structure that's set to expire in 2015, will soon have to start thinking about its office space options.
Industry sources consider it highly unlikely that the firm, which occupies more than 250,000 square feet at 425 Park Avenue, will renew its lease there come expiration, in part because it's highly unlikely to be given the option to do so.
All of the leases at 425 Park, of which Kaye Scholer is the largest, expire at the same time: 2015. That's also the year that L&L Holding Company, chaired by David Levinson (pictured), acquires the leasehold for the property (the ground underneath is owned by the Goelet family). And L&L is expected to either gut-rehab the aging structure or build it anew.
All of which is to say that Kaye Scholer will need to move. That's where CB Richard Ellis vice chairman Craig Reicher comes in. Mr. Reicher, who declined to comment for this article, works with the firm on its office needs, and it is said to be assessing-in a very preliminary fashion-its options, according to industry sources, but it has yet to fully engage the market.
Neither a spokesman for Kaye Scholer nor Mr. Levinson would comment for this article.
drubinstein@observer.com