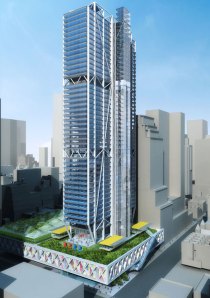 It's now been more than a decade since Steven Roth and his Vornado Realty Trust first won a bid to develop an office tower atop midtown's Port Authority Bus Terminal.
Like many a large public/private project, the deal has been subject to the whims of the real estate market and, for the second time in two cycles, has been relegated to indefinite stagnation, with no tenants in sight.
At the Port Authority's Tuesday board meeting, Vornado, in a partnership with Lawrence Ruben, was given another extension on its exclusive development agreement with the Port Authority, bringing the next expiration date to August 2011.
The Port Authority first gave Vornado an extension in 2008 on the 1.3 million-square-foot tower, a time by which the agency had hoped to be moving forward on the projcet, which was to bring it $500 million.
But the lack of a tenant and any real prospect of developing the building pushed the deal off. At one point, the Port Authority had hoped to get Vornado to agree to invest in the retail at the terminal, but that apparently did not come to fruition. In the deal announced Tuesday, Vornado would manage the retail for a fee. In exchange, the agency said, it would extend Vornado's development option.
From the language of the resolution approved Tuesday by the board:
In exchange for 20X Square's participation as the retail manager, the Port Authority would extend the North Wing exclusivity period for the development of an office tower. Since the execution of the Exclusivity Agreement, 20X Square has developed a familiarity with the PABT and its operations, and would therefore need less time to move forward with the air rights development project when the real estate market recovers.
The building planned for the site was to be a Richard Rogers-designed slender office tower, with a skylobby over the bus terminal and elevators on the exterior of the building, not in the center (Mr. Roth has said this would provide the benefit of a large open floorplate).
ebrown@observer.com