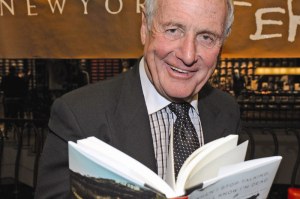 I used to think an icon was somebody who, were he/she to be lowered from a helicopter into a shopping mall in the Midwest, would be instantly recognizable to the hordes of shoppers. (Sorry, but I am constitutionally incapable of viewing the world through anything other than a retail perspective.)
As of last week, I have an entirely new definition. Ready? Here goes: An icon is a person who can graffiti your clothing with a Sharpie while you are still wearing it and totally get away with it. If the scrawler is an icon, then you meekly enjoy being scrawled upon. If, however, you find yourself getting all pissed off and filing assault charges, or sending stroppy letters with dry-cleaning bills attached to Judge Judy (an icon herself!), then you know for sure that your attacker is definitely not an icon.
Last week I was in L.A. enjoying a post-book-signing dinner with the outrageous, generous, legendary, foulmouthed, utterly fabulous and undeniably iconic Jerry Weintraub. (His blockbuster memoir, When I Stop Talking You'll Know I'm Dead, reads like a Harold Robbins novel on crack. Highly recommended.) We were dining at Cut, Wolfgang Puck's ominously named steakhouse. Jerry, who is no poulet de printemps but nonetheless enjoys the attentions of two women-his wife, Jane Morgan, and his girlfriend, Suzie Ekins-was entertaining a group of revelers, myself included, with riveting tales of chutzpah and testosterone.
When Wolfgang stopped by our table, Jerry playfully scrawled on his chef's jacket using the Sharpie that still lingered in his top pocket. Since Jerry was head to foot in black Tom Ford, revenge was not possible. Looking for a suitable target, Wolfgang's beady eyes appraised the snowy white landscape of my Band of Outsiders tuxedo jacket ($1,824). Before you could say "Wiener schnitzel," Herr Puck went to town. After Wolfgang had satiated himself, Jerry spun me round and took his turn, emblazoning his name across my back. Jerry's old pal Bruce Willis, icon number three, then grabbed the Sharpie from Jerry and scrawled his name over my left shoulder. Within seconds, I became their bitch.
If a group of random traveling salesman had defaced me in the same way, I am sure I would have gotten my knickers in a right royal twist. But they were icons, so I was happy, happy to be turned into a walking piece of celebrity memorabilia.
The iconography continues.
One word: Iman. On Thursday, May 20, Barneys celebrated the Somalian supermodel's upcoming CFDA Fashion Icon Award with a window display homage and a lunch in the artfully transformed bra and panty department on the sixth floor.
Naturally, I decided to wear my Sharpie icon jacket. What it really needed, I had decided, was not the chemical removal of the violent, jet-black autographs, but the addition of more. And there would be no shortage of icons at the Iman lunch: Daphne Guinness, Desiree Rogers, Christiane Amanpour and-drumroll!-David Bowie were all scheduled to attend. What an icebreaker! What a conversation piece!
My dear husband, Jonny, intercepted me at the front door, just as I was stuffing some nice fat juicy markers into the pocket. In no uncertain terms, he pointed out the extreme naffness of my enterprise and cautioned me vigorously against surrendering to any similar impulses. "At the rate you are going, you will end up in a pair of hot pants on Santa Monica Boulevard selling maps to the stars' homes," he said, shoving me back in my closet, and forcibly removing the dreaded celebri-jacket. "Or manning the gift shop at the Liberace Museum in Las Vegas."
Speaking of Liberace: Jerry is producing the upcoming movie based on the iconic sequined, piano-playing poofter, to be played by (!) Michael Douglas. Matt Damon has been cast as Scott Thorson, the young boyfriend coerced by Lib into a you-must-look-more-like-me plastic surgery makeover.
As Jerry would say, "It's gonna be some iconic-ass shit!"
sdoonan@observer.com