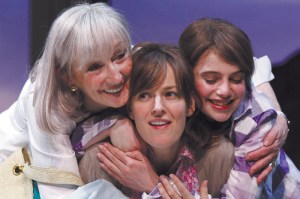 Jonathan Demme won the 1991 Academy Award for Best Director, for The Silence of the Lambs. He directed Tom Hanks to the 1993 Academy Award for Best Actor, for Philadelphia. He's had any number of other critical and commercial successes as a movie director, with concert films, political documentaries, big-budget remakes and indie-style films. Now he has made his stage directing debut, with a revival of Beth Henley's Family Week, which opened last night in an MCC production at the Lucille Lortel.
He should have stuck to the movies.
Mr. Demme has taken a mediocre script—Family Week is a slight and slightly irritating play that the Times reviewer called "tedious" when it debuted in New York a decade ago—and both misdirected and miscast it.
Ms. Henley, the playwright, won the Pulitzer Prize in 1981 for her Crimes of the Heart, a tragic comedy about a trio of Southern sisters with bad luck in love and life. Family Week is also a tragic comedy about damaged women: It centers on Claire, who is at a rehab facility in the Southwest desert—Pastures, it's called, and it's repeatedly described as "the best treatment center in the country"—after her teenage son was senselessly murdered and her life subsequently spiraled out of control. It's "family week" at the facility, and Claire's mother, Lena; her sister, Rickey; and her daughter, Kay, have arrived to help with the treatment—"help" that consists of presenting Claire with inventories of how she has hurt them, not unlike the ritual airing of grievances in the Costanza family Festivus celebrations.
It's a litany of abuse and dysfunction that makes an excellent Lifetime movie plot but a lousy serious play.
Through these recitations, and other interstitial scenes, we learn that Lena was an alcoholic and an abusive mother; that Kay manipulates her father and taunts her mother about causing her brother's death; that Claire terrorized her children; that Rickey was perhaps abused by her and Claire's father. It's a litany of abuse and dysfunction that makes an excellent Lifetime movie plot but a lousy serious play. And while Family Week could perhaps work as a comic indictment of self-help bullshit—Claire has been made by her counselors to carry a stuffed bear everywhere; all emotions must be reduced to one of six accepted "feelings"; celebrity therapists' books and tapes are sold in the gift shop—Mr. Demme, a believer in this stuff, instead chooses to treat it seriously. "One of the early synopses that I saw that the theater company had done described it as Beth Henley's 'lacerating vision' of the mental-health community, and it's not that," he told New York's David Edelstein for a profile article. "What appears at first an evisceration turns out to be a tremendous appreciation for the act of trying to help people." The result is neither appreciation nor evisceration but mush.
It's not helped by a mismatched cast of women that never, despite the talk of family, seem to cohere as one. In the central role of Claire, Rosemarie DeWitt is so uncharismatic that it's difficult to understand why a relative would cross town to visit her, much less shlep to the desert. The great Kathleen Chalfant plays Lena, the mother, with steely Wasp elegance but without any hint of the out-of-control drunken mother she's purported to have been in the past. Quincy Tyler Bernstine, as Rickey, is the most entertaining and compelling actor in the bunch, but the colorblind casting makes it difficult for a viewer to understand that she is Claire's sister until more than a few moments into the play.
The best news might be that Family Week is not Family Fortnight: It runs a trim 75 minutes.
EVERYDAY RAPTURE, WHICH opened last week at the American Airlines Theatre as the final Broadway show of the season, is the musical memoir of Sherie Rene Scott—a blond, brassy, belty and entirely endearing Broadway semi-star who grew up a Judy Garland–obsessed half-Mennonite in Topeka, Kansas, and finally found herself in New York. It played the Second Stage a year ago, where Ms. Scott was spectacular but the show seemed a bit disjointed. Now, only slightly reworked for Broadway—at least one conspicuously confusing transition has been eliminated—the whole thing sparkles.
That's sometimes true a bit too literally, like on the opening set, which appears to have been purchased at Carl Sagan's estate sale. But Ms. Scott is the only star that matters, and she has presence and energy to spare. Backed by her two "Mennonettes" and a five-piece onstage band, and armed with an episodic book of poignant stories and expertly delivered one-liners crafted with Thoroughly Modern Millie author Dick Scanlan, Ms. Scott delivers a bravura 90 minutes.
Once again, the young, talented and enthusiastic-bordering-on-insane Eamon Foley nearly steals the show, as an online fan, BroadwayIsLove09@earthlink.net, whom Ms. Scott reaches out to and gets snubbed by. But I suspect Ms. Scott has never had a show truly stolen from her, and never will. Her joy in performing is just too great—and, for the audience at the American Airlines, it's contagious.