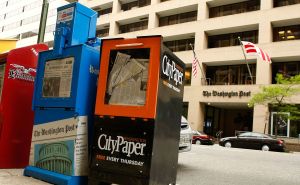 The MSNBC-ification of the Washington Post is underway.
The paper, which just last week launched a new web franchise to compete more directly with sites like Politico and The Huffington Post, is starting to lean left, according to Politico's Ben Smith.
Smith writes that the Post has three of the "strongest liberal blogs on the internet," and reporter Dave Weigel, whom the Post hired recently to cover conservatives, took heat over the weekend for referring to opponents of gay marriage as "bigots."
As Felix Gillette reported this week, the Post isn't the only DC media entity committed to countering the Politico onslaught.