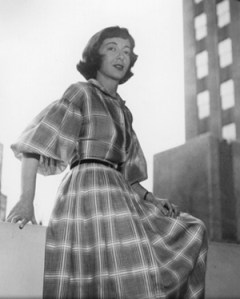 Nina Bourne–the legendary Knopf advertising director who died last month at 93–was memorialized Wednesday afternoon at the New York Ethical Culture Society.
"A meeting-up of the old Knopf family," was how Jane Friedman said she'd described the service to Random House CEO Markus Dohle. But the crowd that assembled Wednesday also included the family Ms. Bourne had acquired in her Simon & Schuster days, the families (like editor Robert Gottlieb's) she had adopted as her own, and, although she never married or had children, the occasional blood relative. The 13 speakers who eulogized Ms. Bourne spanned the duration of her career–from Kay Cattarulla, who in 1957 was hired to be Ms. Bourne's secretary for $50 a week, to Stephanie Kloss, who worked with Ms. Bourne in her last decade. Longtime colleague Mr. Gottlieb spoke; so did his son, daughter, and wife.
Certain motifs emerged. Everyone remembered the scrambled "Nina eggs" ("lots of butter, never dry," explained her nephew) that she made as a weekend ritual. Everyone remembered the huge manhattans that she had exchanged for dark-and-stormies by the time that she hit 70 or so. Everyone remembered being called "Lovey" for the first time (42 years ago, said Jane Friedman, and back then she thought she was the only one).
"You know, Nina is not a little girl!" the five-year-old Lizzie Gottlieb once explained to a childhood friend who had just met the tiny and playful Ms. Bourne. But N.B.: "Nina was not totally adorable–let's get that straight," Mr. Gottlieb added later. "We had a joke: I was going to de-bunny her."
Her work was testament enough to Ms. Bourne's non-bunny side. She could generally be found curled in her desk chair, where she would light two or three cigarettes at a time and then forget about them, going into a trance at her typewriter as she chose the perfect words to "uncork a book's essence," as former assistant Alice Quinn put it.
"It was bliss!" said Mr. Gottlieb of the old days. "You can't imagine what fun it was, to be dealing with English this way."
"What is publishing? It's making public your enthusiasm for a book," he said. "No one knows how to do it today."
Enthusiasm was Ms. Bourne's business. She defined the aesthetic of modern book advertising (clean layouts, black borders, bold copy), she propelled Catch-22 to success ("I'm like the demented governess who thinks the baby is her own," Mr. Gottlieb recalled her saying), and she came to the office until a few months before she died.
"There was no separation between work and home," Mr. Gottlieb said, remembering how books and friendship had intertwined for Ms. Bourne and her colleagues.
Once, he said, he had given Ms. Bourne the manuscript for Chaim Potok's The Chosen. He thought the book was amazing; he wanted her to read it that night and help him figure out what to do with it. The next day she came into the office frustrated. She had read the book and loved it. But she had finished it well after midnight: There had been no one awake to call and tell.
So what could she do?
Well, she said, she made a cup of tea and told herself.
"Now that's publishing," said Mr. Gottlieb.