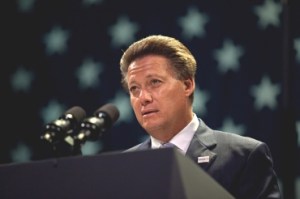 TRENTON – Statewide AFL-CIO President Charles Wowkanech said he heard a strong message from the crowd today and from the leaders who spoke: legislators will have to decide between labor and the anti-labor agenda of Gov. Chris Christie.
That's an either/or scenario that could play Hamlet havoc with freshmen Republican senators who rely on and in turn support labor causes, such as state Sen. Sean Kean (R-Wall) and state Sen. Phil Haines (R-Mt. Holly).
Shortly after leaving the public workers' rally against Christie's proposed budget cuts, Wowkanech wouldn't get into the details of who or who wouldn't be targeted, pointing out out that the AFL-CIO's delegates decide those questions. But Christie has antagonized labor, said Wowkanech, creating serious coalition potential, when one considers teachers, fire, police, corrections, community groups and healthcare unions, that could run into the range of 700,000 votes.
"This was just the beginning today," Wowkanech told PolitickerNJ.com. "This was an impressive statement to the legislature. Based on what I observed today, and based on the considerable effort we have made in support of labor candidates, they have to stand with us now."
At least one person in the crowd mentioned that Senate President Steve Sweeney (D-West Deptford) likely wouldn't be welcome in front of a crowd dominated by public sector workers.
Sweeney was the lead driver behind public pension reform, which proved to be Christie's first big bill signing and an early statement of Christie-Sweeney power sharing.
But that was before Christie unveiled his so-called government reform toolkit, which Wowkanech said had the instant effect of unifying public and private sector union groups and jolting politicians like Sweeney, himself an ironworkers local leader.
"The toolkit is a smokescreen for union attacks," Wowkanech said. "Doing away with civil service, which is in the toolkit, is like doing away with prevailing wage. This is blatant union busting and attacks the principles of collective bargaining."
Wowkanech said the rally organizing committee agreed not to invite elected officials to speak at the rally today, favoring grassroots mobilization over political speechifying.
"I have to tell you, there was a little bit of nervousness early about this rally, but when I started seeing the buses pull in at around 11:30, adding up to what the state police estimate was in excess of 35,000 people, you start to understand what's going on."
Referring to the governor, Wowkanech said, "I think this guy is just hurting himself. The way he's acting now, giving tax breaks to the wealthy and to big business, he's clearly just trying to implement a national Republican agenda" – an agenda that clashes with the origins of those labor-backed members of the legislature, Wowkanech added – who'd best hear today's din of that West State Street crowd.