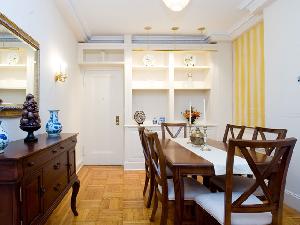 On the Upper East Side, the sound of optimism is a champagne bottle popping.
At a Thursday evening open house at 120 East 87th Street, broker Dominique Punnett watched a rare bidding war over the apartment, and now had an offer on the table and champagne glass in hand. A couple from Long Island, who made an offer on the apartment last weekend, were ready to pay in cash for the place, which they would plan to use as a second home.
"The market is definitely coming back," said Ms. Punnett, as corks popped precariously behind her. "People are suddenly crazed with wanting to buy apartments right now," she said, which caught many brokers by surprise. "Nobody was prepared."
The condo, listed at $2.4 million, has 12-foot ceilings and 26th-floor sunset views that promise to melt away all those worries about anemic stock portfolios. The rare loft on the Upper East Side is courtesy of the scrappy Gimbels Department Store.
The little business from Brooklyn hawked "a fantastic, atomic era, miraculous pen"—otherwise known as the ballpoint pen—all the way to some prime Manhattan real estate. Now, in a reversal of fortunes, the apartment's current owner is upgrading from Carnegie Hill … to Brooklyn.
Still, the Upper East Side of young socialites with vague job titles and plenty of disposable income was alive and real estate-ready. A broker with bleached blond hair and a power suit came by to check out an apartment for a client, a "single gal" in the fashion industry. The client wants a spacious two-bedroom with a view. "It doesn't have to be on the Upper East Side," said the broker. "But she's used to the area."
Downstairs, at a three-bedroom just under $3.98 million, there was no champagne yet, but there were half a dozen groups of buyers. Most of the people who came by to look were foreigners or people who live in the building and are planning to upgrade. A young Russian named Anna was looking for a friend, who plans to split between New York and Russia. "It looks like Moscow," said Anna, who wouldn't say if she meant that as a compliment.
Others were more unequivocal in their praise.
"It's like the United Nations here," said Timmy Shiota, who was looking at the place with his wife and college-aged daughter. "Every apartment is like its own country."
Mr. Shiota, a jeweler, bought into the building 20 years ago, when it was in bankruptcy. Now it's a magnet for people from all over the world. He and his wife are looking for a bigger place and his face brightened at the thought of moving out of the city. But they're tempted to stay on the Upper East Side because of the bargains.
"This market is all about price," said broker Brad Bateman. "[Buyers] have chased the market down," and now, he said, it's ready to go back up. It's been a dizzying year for upper-end Manhattan real estate, with average sales prices down 28 percent from last year, but up 14 percent from the previous quarter, according to a Miller Samuel-Douglas Elliman report.
At a penthouse at 1133 Park Avenue the mood was still more bust than boom. The apartment started out around $1.8 million, but thanks to a drop in the price to just over $1.3 million, now it's "priced to sell," said broker Alexandra Tawfik. "The terrace is bigger than the apartment!" said Ms. Tawfik. But, indeed, there are 25 more feet for storing deck chairs than for sleeping, cooking, eating and bathing combined.
A couple from New Jersey said a penthouse with an enormous terrace might be an appealing place to feather an empty nest. "We're looking for a little slice of Manhattan," said Lauren Gross, "so we can re-engage culturally."
Ms. Gross lived on the Upper East Side 30 years ago. It hasn't changed much, she said, which is part of the appeal. "This is the best time to buy," said Ms. Gross, a commercial real estate broker, as her husband stood quietly at her side. "That's why I brought the big guns."