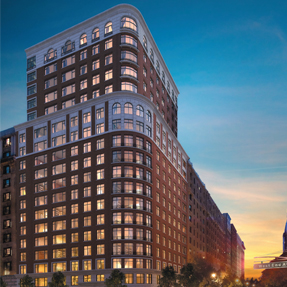 It looks like the tables may have turned for 535 West End Avenue. Oft derided as the poorman's 15 Central Park West, apartments at the Lucien Lagrange-designed, pre-war style building have been loitering on the market since May of 2008.
Then in March of this year a 25% price cut catalyzed the curved facade condominium's first sale, followed by a full floor sale with a 40% price chop. Quite a bargain for a luxe development that includes an indoor swimming pool with his and hers saunas, a billiards room, and Kosher kitchens for the full-floor units (Matt Damon was reported perusing apartments at the building).
Now, according to the website Streeteasy, only three apartments remain available and Corcoran's Sunshine Group is getting more than they bargained for–literally!
City records reveal that one of the two fourth floor units sold to a Greenwich, CT-based Aviva LLC for $10,437,062.50, almost a quarter million more than its $10.25 million asking price.
With a 40-foot living/dining room and a choice of rosewood or oak floors the five-bedroom, "offers the perfect blend of public and personal space with all 5 bedrooms located together in the western portion of the home."
From pricechopping to bidding wars, this is some West Side Story.
-cmalle@observer.com