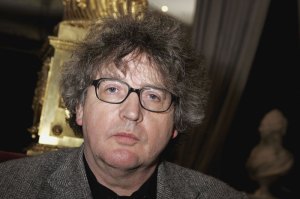 Earlier this month, I saw poets Paul Muldoon and John Ashbery read at a small, 60-seat venue in Hell's Kitchen called Medicine Show Theatre. I'd never heard of the place. There was no sign on the door and scaffolding shrouded the entrance. I paid $5 and sat in a room with about 40 other people as two of the great living poets read from their work.
Only in New York, I thought. But maybe not for long-as massive budget cuts threaten New York culture's beating heart.
The looming devastation to the city's arts budget is even more frightening in light of England's comparably anticlimactic cuts late last week. Arts Council England (ACE) announced it would be cutting just 0.5 percent of funding for each of the 808 organizations that it supports every year. This amount-far less than expected-comes as "a relief" for everyone, as The Guardian reported. It still means a £142,000 loss for the Royal Opera House and £80,000 for the Royal Shakespeare Company. The average cut was £2,000.
ACE's budget was £575 million for fiscal year 2009/10. It has been chopped by a total of £23 million this year. The cuts were mitigated using £9 million in the council's reserve funds; they're now at a relatively meager 0.5 percent across the board. These British institutions will stay in business, most with little change to the daily routine for now. New York should be so lucky. If the proposed cuts go through July 1, the New York State Council on the Arts will see a 40 percent decrease in its budget, from $41.6 million to $25.2 million. The Public Theater's city funding would drop from $700,000 to $450,000, forcing it to stage one less week of Shakespeare in the Park this summer, and possibly to consider layoffs. Brooklyn Academy of Music would lose $1 million-the largest single-year drop in funding in the organization's history. BAM has no plan in place, but such a drastic decrease will undoubtedly cause changes in programming and freeze positions within the organization.
And as for the far smaller Medicine Show Theatre? It receives roughly $10,000 annually from the Department of Cultural Affairs and the New York State Council combined. If that money is cut back significantly, "I don't know what we're going to do," said Barbara Vann, Medicine Show Theatre's artistic director. "You either have to be rich or beg."
At the end of Mr. Muldoon and Mr. Ashbery's reading at Medicine Show Theatre, Ms. Vann made a plea for donations, lamenting the fate of the small performance space. A line from one of Mr. Muldoon's poems stuck with me as I walked out onto West 52nd street.
"It was too late to insist that the body of a poem is no less sacred than a temple."
Let's hope not.