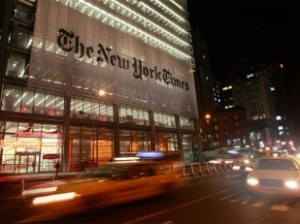 The New York Times is getting ready to join The New Yorker, Life, Blackbook and, most prominently, Newsweek by adding a Tumblr to the list of ways it publishes content. Or republishes content. Or comments on its content.
We're actually not sure how The Times will be using nytimes.tumblr.com becuase currently the page is empty, save a "coming soon" post.
In other news, The Huffington Post also started a Tumblr today, but they launch something new every day.
Joe Pompeo wrote that there were five posts on The Times tumblr, but they were deleted some time around noon today. What happened? And is Phil Corbett concerned that people are starting to drop vowels out of standard spellings willy-nilly?
Maybe The Times will use the page as a personal diary of sorts, taking the voice of one editor (like Newsweek's Mark Coatney). Or maybe it will become a sort of unofficial publicity page where The Times snipes back at its critics — a sort of anti-public editor blogspace. Maybe it will just be an idea shop where The Times tinkers with different ways of getting their work into the hands of people on the internet. That would probably be the most fun.