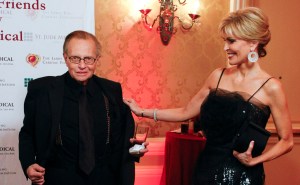 Larry King is giving up the nightly show he has hosted on CNN since 1985. He told viewers Tuesday night that he will stay on at the network to host "Larry King specials."
"I'm incredibly proud," Mr. King added, "that we recently made the Guinness Book of World Records for having the longest-running show with the same host in the same time slot."
According to second-quarter ratings numbers that were released on Tuesday, Mr. King's 9 p.m. hour had its worst quarter ever, with 674,000 average total viewers.
Campbell Brown, who came on at 8 p.m. before Mr. King, also had her worst quarter ever. She decided to leave her show in May, saying, "The simple fact is that not enough people want to watch my program, and I owe it to myself and to CNN to get out of the way so that CNN can try something else." Something else, like Crossfire redux.
CNN president Jon Klein told Brian Stelter, who broke the news this evening, that Mr. King is leaving his show on his own terms and a replacement will be named over the summer.
"I'm not getting younger. I want more time with other things. It's time to go," Mr. King told the Los Angeles Times.
Piers Morgan and Katie Couric have both been floated as possible favorites, but Mr. King favors Ryan Seacrest.