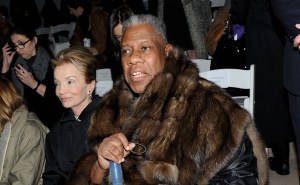 It's fun to imagine Andre Leon Talley doing just about anything, like being fed cubes of cheese and grapes with a bib on, even if it might not be true.
But this is true: Mr. Talley recently took Pulitzer-winning New York Times staffers Maureen Dowd and Michiko Kakutani shopping in Los Angeles in Ms. Dowd's rented prius.
The outing was "almost as hilarious as an episode of Absolutely Fabulous, minus the Champagne diet and outrageous behavior," Mr. Talley wrote in a post for Vogue yesterday.
Ms. Dowd wanted to shop vintage, and came away with a few black dresses. She did, however, manage to pass on one item, a "sadomasocist-equestrienne"-inspired cocktail dress in black silk-tafetta. How, we're not sure.
Afterwards, the threesome went out for chili dogs.