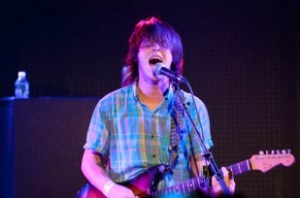 Wavves played a show with The-Dream last night. That's the lede here. Forget the weird games the pop punk star might be playing with his audience, forget the myth he's building as he stages his triumphant early career comeback, forget whether the production on his new album means he can't call himself lo-fi anymore. He played a show with The-Dream! The guy who wrote "Single Ladies" and "Umbrella"!
Wavves, whose real name is Nathan Williams, had to have been stoked about this. Actually, we know he was: The 23-year-old king of small-scale DIY music tweeted yesterday afternoon that "special, special shit" was going to happen at the Fader party that evening. "Trust me," he wrote. "Will be amazing." Then he made a joke where he combined the name of his upcoming album, King of the Beach, with The-Dream's, Love King. It was a sly hint, and maybe enough of one if you happened to know that both Wavves and The-Dream made the cover of The Fader this month, but probably a hair too sly to tip off anyone who doesn't believe in miracles.
Because, honestly: Wavves opening for The-Dream? How about flying pigs opening for The-Dream!
The party was in midtown, in the basement of the Hudson Hotel. You had to be on a list to get in, but if you were convincing enough at the door about why you absolutely had to be there, you were pretty much good to go.
Inside were Fader staffers, people who work at record labels, musicians and music critics. Among the attendees: former MTV news personality John Norris, who was name-checked semi-affectionately at the beginning of Wavves' set a few days ago at the Knitting Factory in Williamsburg; a couple of guys from Real Estate, who just hung out with Wavves the other night in New Jersey after a show in Montclair; and a guy in a Diesel tee that said "Be Stupid" in big letters on the front.
Wavves went on a little after 9 p.m.; they sounded pretty good but after seeing them at the Knitting Factory last week, where the sound wasn't bouncing off every wall as much and the crowd was a lot more invested in them, it was hard not to feel like you were watching a band fulfilling an obligation.
The chatty drummer, Billy Hayes, was a lot quieter than he was on Thursday, but he did manage to squeeze in a few zingers: "This next one's a thong-ripper," he said at one point, and then had to repeat it three more times before Mr. Williams understood what he was saying. Mr. Hayes also said, "Let's play the stupid one about being fat and ugly," a reference to the Observer story that went up the other day about Wavves' marketing strategy and their hostile stance toward the cosmopolitan journalists who write about their music. "Fat and ugly" in particular was a call-back to a remark Mr. Hayes made from the stage on Thursday, when he sarcastically lamented, in the general direction of the hipsters in the crowd, "I wish I was skinny and cool."
It was hard to tell what kind of mood Mr. Williams was in last night. Despite the mediocre sound it was obvious they were playing well, and that Mr. Williams in particular was hitting his notes and not really running out of breath. But then a few songs in, the drummer muttered something into his mic about rude blog posts, and how if anyone was planning to write one about the show they should come talk to him about it first so he could punch them in the face.
Mr. Williams seemed to feel this was no time for subliminals, and just went for it: "This song is called 'Fuck The New York Observer!'"
For a second I thought maybe he had written a new number for the occasion, and got excited. But then he just played "Green Eyes," and that was fine, too, because that's a great song. Afterward, he took his shot again, shorty-said-it-twice-style: "Fuck The New York Observer."
Eventually the end of the set came; they closed with the recession anthem "No Fun Kids" and left the stage.
The-Dream, the R&B superstar profiled this week in The Village Voice, played only a few songs, but an earlier rumor that he might not perform at all meant that most people in the audience felt lucky to even be hearing one. Also, when The-Dream is dancing and singing 10 feet from your face the main thing you think about is not how many great songs he's going to do before he leaves, but how many great songs he has written, and how sparkling he looks in a flat-rimmed cap and sunglasses.
By the time the lights went up, the open bar portion of the evening had ended and rumors that M.I.A. might perform had died down. As the crowd thinned, the guys from Wavves got back on stage to break down their equipment.
Mr. Williams indicated that he did not want to be interviewed by The Observer, which is too bad because it would have been rad to find out whether he got to hang out with The-Dream at all.