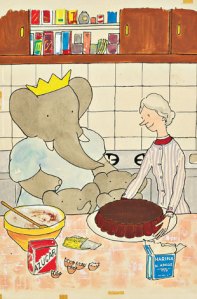 Few children's books have been as successful immediately upon publication as Histoire de Babar, published first in France in 1931 and then two years later as The Story of Babar in the U.S., complete with a foreword by legendary Winnie the Pooh creator A.A. Milne. Several more Babar books followed from the character's creator, Jean de Brunhoff. Then several more from his son, Laurent, after Jean's death. The almost deliriously happy and sensible Babar family-King Babar, Queen Celeste and their four adorable children-went on to star in an animated series seen around the world.
In recent years, the granite-gray pachyderm has been taken far more seriously in artistic circles. The de Brunhoffs' accomplished drawings have been exhibited at the Morgan Library & Museum and literary critics have weighed in on the series' noticeable lack of, at best, political correctness. Babar, presumably from Africa, visits the West and swiftly imports its ways to the jungle, to the apparent delight of his subjects. Moreover, some unpleasant locals he encounters in his adventures are dismissed as spear-carrying savages.
Adam Gopnik, writing in The New Yorker in 2008, said "a series of critics on the left … have indicted Babar in the course of a surprisingly resilient and hydra-headed argument about the uses of imagery and the subtleties of imperialist propaganda. Babar, such interpreters have insisted, is an allegory of French colonization."
The plushy monarch's imperialist ambitious aside, he certainly was keen to proselytize Western languages. In 1963, Laurent de Brunhoff published the popular Babar's French Lesson. Two years later, it was published again as Babar's Spanish Lesson, with the names, products and signs changed from French to Spanish in a nearly identical book.
On June 17, Swann Galleries is selling an original illustration of Lesson 7, from the Spanish Lesson book. A gouache, watercolor and ink illustration, it carries a presale price estimate of $1,200 to $1,800.
apeers@observer.com