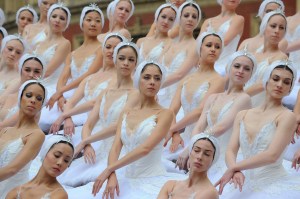 Magazine expense accounts ain't what they used to be, sure. But the business-rich publishing experience — miniature bagels, quartered bran muffins — is still alive and well for certain editors.
Tomorrow The New York Times has a story about a breakfast hosted by the cosmetics company La Prairie, purveyor of pinkish face creams ($250/oz.), for beauty editors at Danny Meyer's The Modern at MoMA.
"You're the beauty editor. A fantasy job for some women," the article begins. And later:
As breakfast was served, a woman in a white sundress swanned by to pat a bit of it on the back of everyone's hand with a small paddle. The guests brushed aside their silver La Prairie notebooks to make way for a plate that only the hungriest could finish: a zucchini-and-egg-white timbale; a miniature bagel with lox, cream cheese and capers; fruit salad; a yogurt-and-granola parfait. Each table also held a platter of quartered bran muffins.
But isn't that the Catch-22 of the whole magazine world? Only the hungriest girls can finish breakfast.