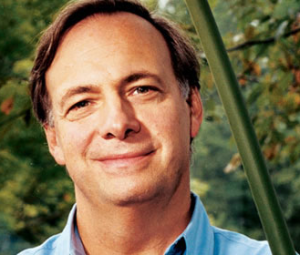 Even though June isn't often a month for astonishing financial news, it's quietly become a goldmine of stupendous information about some of Wall Street's brightest minds. There was Vanity Fair's exclusive interview with Steven A. Cohen, who turns out to be in constant pain, followed by New York's detailed look at Bernard L. Madoff stay in prison (though it didn't include today's tale of his secret $9 billion booty). The Journal adds to that with an interview with billionaire hedge fund genius Ray Dalio, who in the middle of global market chaos offered Michael Corkery personal thoughts on home-grown tomatoes and insects.
"Man," he says, for example, "will never be able to build a flying device like a mosquito."
Mr. Dalio runs both his life and his $75 billion hedge fund, Bridgewater, based on an 83-page, 295-principle philosophy that's predicated on ruthless honesty. The hyper-realism, as it's called, extends to Mr. Dalio's home: "Each person finds this hard," he says, "until you get used to it."
The article says that his principals leaked to Dealbreaker, which is not entirely accurate. The real story is more interesting. Last month, the blog printed awesome excerpts from the Dalio treatise, like this one: "When a pack of hyenas takes down a young wildebeest, is that good or evil?" In response, Mr. Dalio posted the entire document to his hedge fund's site, and wrote Dealbreaker to say that he hoped "that anyone who is interested in understanding these principles and how Bridgewater operates will read them and make their own judgments." He also rewrote the original blog post in his letter, interrupting it with asides about what he considered to be misinformation. "I have a fundamental belief that finding truth and dealing with truth, whatever it is," he wrote, "is good."
The only other problem with the wonderful Journal story is that it didn't mention that he stalks warthogs on bow-hunting trips.