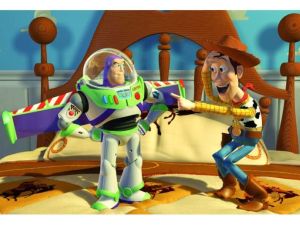 Neither Tom Cruise nor Adam Sandler could stop Buzz and Woody from owning both the tear ducts and wallets of audiences around the country. Here's a breakdown of the top five at the box office.
1. Toy Story 3: $59 million ($226.5 million total)
That Toy Story 3 has grossed more than Toy Story after just two weekends is indicative of higher ticket prices and 3D premiums. That the Pixar film has grossed just $3 million less than Shrek Forever After has during its entire six-week theatrical run, however, is indicative—well, probably of how bad Shrek Forever After was. Down just 46 percent from its massive opening—the lowest decline among films in the top 10—Toy Story 3 is looking more and more like it will wind up being the biggest film of the summer, Tony Stark be damned.
2. Grown Ups: $41 million ($41 million total)
For Adam Sandler, it's the same old story: Star in something with a preponderance of fart jokes, and watch the millions pile up. The much-reviled Grown Ups wound up opening in the same ballpark as his previous summer comedy efforts like Click and Big Daddy and should follow suit to their final numbers. This is Sandler's 10th opening of more than $34 million in the last 12 years. And they said the star system was dead!
3. Knight & Day: $20.5 million ($27.7 million total)
On second thought … what to make of Knight & Day. On the plus side, the $20.5 million was more than what Killers delivered three weeks ago. But are we really going to favorably compare a film released by Lionsgate and co-starring Katherine Heigl and Ashton Kutcher with a film released by Twentieth Century Fox and co-starring Tom Cruise and Cameron Diaz? Didn't think so. For what it's worth, there does seem to be a groundswell of positive buzz for Knight & Day from the people who have seen it—but that doesn't mean all that much considering how low this number was. To wit: Knight & Day grossed half of what Grown Ups did this weekend. When does that Lex Grossman movie come out again?
4. The Karate Kid: $15.4 million ($135.6 million total)
Doesn't it seem like Jackie Chan doesn't get the respect he should as a box office draw here in America? Between The Karate Kid and the Rush Hour series, Chan has had four $100 million–plus hits since 1998—plus another if you want to count his voice work in Kung-Fu Panda. His scope is limited—and his foray into other genres (The Spy Next Door) hasn't worked—but in the right project, Chan is bank.
5. The A-Team: $6 million ($62.8 million total)
Just a guess: Joe Carnahan is probably wishing he directed Mission: Impossible III right about now.