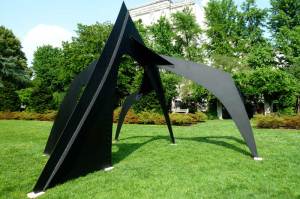 While lots of Chelsea art dealers are beachside by the first week of summer, the vibrant borough of Brooklyn's cultural side doesn't take a vacation. Here's a look at what's worth looking at.
Field of Dreams at Prospect Park Bandshell
July 24, 4 p.m.
Cult art collective The Bruce High Quality Foundation, along with producer and artist Andres Levin, presents a daylong, outdoor art-and-music festival in the fair and lovely surroundings of Prospect Park. Think "World Fair '39 meets Summer of '69 in the recession of '09," they say. We don't think "Field of Dreams" has much to do with Art Deco, free love or mass unemployment, but it does have a nice ring to it. A number of world-renowned performers will be stopping by, but one big name we're looking forward to is M1, of Dead Prez fame.
The Boiler
191 North 14th Street
The Boiler is an atmospheric ancient boiler room now converted into the second exhibition space of Pierogi, an old-guard Williamsburg gallery beloved of critics all over the place. Greg Barsamian's three-dimensional, sculpture animations open here July 2. Down the street, Pierogi (177 North Ninth Street) itself is exhibiting beautiful graphic paintings from Sarah Walker, whose work is in MoMA's collection, and Ken Weathersby, who was recently included in the National Academy of Art's annual survey. That show closes on June 27.
The Coney Island Museum
1208 Surf Avenue
If the surf-sprayed boardwalk charm of Coney Island isn't enough of a pull on summer afternoons, Coney Island's 99-cent-admission museum, whose Web site advertises its public rest room a little too proudly, hosts an expansive selection of the weird and wonderful. On weekend evenings, sci-fi movies are screened; on tap are such classics as A Clockwork Orange, Attack of the 50 Foot Woman, King Kong vs. Godzilla and Planet of the Apes. Movie tickets are $5.
Like the Spice
224 Roebling Street
Six artists present their interpretations of the human body at a show that runs through Aug. 8. One inventive standout: Brendan Lott's photorealistic oil paintings, taken from photos found online that are then sent to Chinese artists to be painted without context. Pull up a chair: Like the Spice holds monthly, family-style dinners attended by the gallery's exhibiting artists for would-be discussers of the aesthetic.
Andy Warhol: The Last Decade
The Brooklyn Museum
200 Eastern Parkway
Warhol needs no introduction, but this is the first time an exhibit has been dedicated purely to his last decade's work. Though it was the artist's most productive period, during which he brought painting and screen printing together, this later work is less well known. Associate curator Sharon Matt Atkins will give a talk on the exhibition on-site on July 3 at 7 p.m. Tickets are free, and Ms. Atkins should be interesting on what was and was not included in the exhibit, and why.
Rooftop Films
Various locations
In Brooklyn, catch avant-garde movies, documentaries and foreign imports on the borough's famous rooftops, which will be decked out with chairs so you won't have to sit cross-legged for three hours. Venues where some of the most experimental filmmaking tends to be shown include the roofs of the Automotive High School (50 Bedford Avenue), BAM Cinematek (Fulton Street and Ashland Place), Brooklyn Tech (29 Fort Green Place) and the Old American Can Factory in Gowanus (232 Third Street). We're looking forward to The Ape, a thriller in which the lead actor never saw a script, and Greetings From the Woods, an idiosyncratic look at the characters in the director's Swedish hometown. For detailed information on showings (which are also in other boroughs), see www.rooftopfilms.com.
Skylight Gallery
1368 Fulton Street
For a show that opens July 10, the work of six black photographers from Brooklyn are combined to spotlight some of the 1960s experiences of the black community in the borough. Nelson Mandela briefly features, as does Ossie Davis, alongside a cluster of other well-known New Yorkers and out-of-towners snapped on their way through the Borough of Kings half a century ago.
Brooklyn Botanic Garden
1000 Washington Avenue
The garden has a prominent Manhattan visitor this summer: Alexander Calder's Le Guichet is on loan from Lincoln Center for the Performing Arts. The glorious giant black outdoor sculpture is 14 feet high and looks quite happy sitting on the grass. Good timing is to see it on the garden's Sunset Picnic Nights. Every summer Wednesday, movie screenings begin at dusk.
ajulius@observer.com