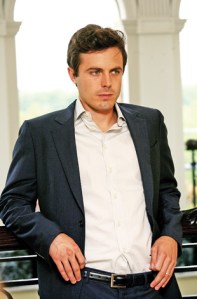 "Hey, look over there. There's a dude out there. What the fuck is he doing?" Casey Affleck, distracted mid-thought in response to a question about his new movie, The Killer Inside Me, stood up to get a better look out the window from his room at the Crosby Street Hotel, at a man dressed in black walking around on a neighboring rooftop. "Shit," he said. "What is he doing?" He took his phone out of his pocket. "Let's take a picture." He grinned. "Maybe he's an assassin."
Perhaps this is just where the mind goes after completing a film as unflinchingly dark as The Killer Inside Me. Based on the 1952 Jim Thompson novel and directed by Michael Winterbottom, the movie revolves around a seemingly mild-mannered young deputy sheriff named Lou (Mr. Affleck) in a small Texas town, who tries (and fails) to contain his rapidly spiraling sadistic and sociopathic urges that include, among other disturbing things, beating women to death with his fists.
Unsurprisingly, the film has been the subject of some controversy even ahead of its limited June 18 release; one infamous scene involves pretty co-star Jessica Alba getting punched repeatedly (and graphically), her face a bloodied pulp, inspiring massive walkouts during Killer's premiere at the Sundance Film Festival. During the Q&A that followed, one woman reportedly asked Mr. Winterbottom, "How dare you? How dare Sundance?" At the screening The Observer attended at the Tribeca Film Festival a couple of months later, just about every member of the audience covered their eyes during The Scene, but no one walked out. ("Oh good, success," Mr. Affleck said dryly.) It is indeed a hard movie to watch, but in its own horrific way, it's thrilling and compelling, with an outstanding, creepy performance by Mr. Affleck.
It is somewhat heartening, of course, that moviegoers who can yawn their way through scenes where men are mowed down indiscriminately by rapid-fire machine guns or transforming robots, and who will gleefully clap their way through apocalyptic images of whole cities sliding into the sea, can be so disturbed by a man slugging a woman in the face. "I think they should be upset," said Mr. Affleck. "I'm glad that it was upsetting. I would much prefer the violence in a movie to be realistic and upsetting. What I didn't want to do is violence that is not treated in a realistic way, where there are no ramifications, or it doesn't really feel like someone has been hurt. That would have felt wrong to me." He sighed. "But here's the thing! If you are at Sundance and you go to a movie that's called The Killer Inside Me that is based on a book that is available at the bookstore, and that is discussed at length in the Sundance brochure, then you should know what you are in for."
Regarding the peeved Sundance audience member, he went on: "What did she want? She wanted something palatable and toned down. Something not as upsetting. That would have contributed to a culture that is really repressed sexually and has a lot of problems with domestic violence. I just can't imagine that kind of movie. It just doesn't make sense to me."
MR. AFFLECK IS 34. His first movie role was in Gus Van Sant's 1995 To Die For (alongside future brother-in-law Joaquin Phoenix-more on that in a moment). For the next few years, he popped up in films such as 200 Cigarettes, Lonesome Jim, Gerry and in Ocean's Eleven, Twelve and Thirteen. But for the most part, he was known mainly as Ben Affleck's younger brother. This during the early aughts, post-Good Will Hunting frenzy, the era of Bennifer: when you couldn't pass a newsstand without seeing Ben Affleck's square all-American jaw and gleaming teeth on the cover of every tabloid.
But then came 2007. First there was the stunning The Assassination of Jesse James by the Coward Robert Ford, an intense, beautiful film by Andrew Dominik in which the younger Mr. Affleck played the sycophant and eventual murderer Robert Ford to Brad Pitt's James. A month later, Gone Baby Gone was released; this gritty, Boston-based drama, adapted from a Dennis Lehane novel, was Ben Affleck's directorial debut, with his little brother as leading man. Widely praised by critics, the film managed to silence the Gigli jokes and anoint Casey Affleck a serious actor. There were the inevitable breathless magazine profiles and an Oscar nomination for Jesse James.
And then there was wasn't another Casey Affleck movie until The Killer Inside Me. Why?
"He's an elusive actor," said Mr. Winterbottom. "I think he gets lots of offers, but he's a reluctant actor. A great actor … but reluctant." For Lou, the director added, "I needed an actor who is capable of suggesting there's a lot of things that are going on inside his head. When you meet Casey, as a person, you know there's an awful lot of stuff going on."
In person, Mr. Affleck is unfailingly polite, if a bit guarded. His features are finer in person-his cheekbones higher, his eyes bluer than they appear onscreen. When talk turned personal, about his brother or his sons (he has a 5-year-old and a 2-year-old with wife Summer Phoenix), his voice got quieter, his answers shorter and his eyes glowed just a little bit more intensely. For the past two years, Mr. Affleck has been at work on the much-buzzed-about documentary chronicling Joaquin Phoenix embarking on a new career as a hip-hop artist. When Mr. Phoenix started showing up for increasingly bizarre public appearances on places like Letterman in a scraggly beard, long hair and sunglasses, people speculated it was stunt, a bit of Andy Kaufman-like performance art done for the good of Mr. Affleck's documentary. Since The Observer's interview with Mr. Affleck, the film has been screened for potential buyers sworn to secrecy. (Blogosphere leaks focus on the rumored debauchery more than anything else.)
"I imagined doing something different than anything I'd ever seen," Mr. Affleck said. "I wanted a close-up, a portrait of a person. I like it a lot. It's something that represents who I really am more than other movies that I've done as an actor."
But is it, you know, real? "I think it will probably change people's opinion of Joaquin," Mr. Affleck said vaguely. "Any sort of idea they might have had about what was going on in that period of his life, which on the one hand was very public and on the other hand, extremely private. I think they'll find there are opinions that are wrong about all that stuff."
A meditation on the crazy business of fame, perhaps, by someone who has watched it reach into the most intimate corners of his family and friends? "It's rare that you find someone who is famous for whom fame and their celebrity is not a big part of their life, for better or worse," said Mr. Affleck. He shook his head at some of the behavior he's witnessed, and pointed out the mysterious disparity in fan lunacy that has kept his friend Mr. Pitt from walking down the street since Thelma and Louise, but let Matt Damon-"great actor, lots of movies, big leading man-go about his business unbothered.
As for the younger Mr. Affleck, "People don't go crazy when they see me," he said. "If it's something I did on my own, then I congratulate myself. I don't think it is, though-I attribute it to the mysterious quality of people not caring." He said that when he is approached, it's always by respectful and sane fans. "There are benefits to it, you know," he said. "Celebrity creates opportunities. If you are an actor-these days movies are sold on people and personalities. So you have to be a personality if you want to carry a $100 million movie." He paused. "That's not a trade-off I'm willing to make."
svilkomerson@observer.com