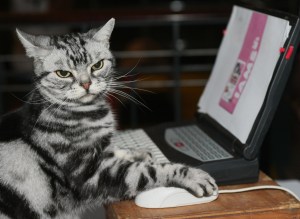 Jason Scott wanted to be clear: When it comes to cats on Twitter, his cat Sockington is like the Grateful Dead. Often imitated, never duplicated.
With more than 1.5 million followers and hovering around the 105th most followed Twitter account, @Sockington has become a formidable presence in social media—hence Mr. Scott's presence at yesterday's Social Media Round table event for pet lovers as part of Internet Week. Sockington was not present at the panel.
Mr. Scott, a computer historian from Massachusetts who wore a button-down emblazoned with an American flag and skulls, talked about the benefits of having a popular cat on Twitter. One fan sent him 50 pounds of ahi tuna. But he decried attempts by businesses to monetize Sockington. He said that one outlet had offered to make Sockington-brand pet tags. He compared pet owners' relationships with their pets to that of parents and children.
"Unfortunately, it's like having a child with a disease that kills them after 15 years," he said. "So they get to go through this maybe four or five times in their lives."
Kristyn Pomranz, editor of the site I Can Haz Cheezburger, was introduced by the moderator as the person behind the Web site filled with pictures of animals captioned in large, grammatically incorrect "catspeak."
"Give them a little 'I Can Haz Bio,'" he joked in front of a crowd of about 50.
"The Internet is grim," Ms. Pomranz said. "It is bleak. People are angry. Everyone is hiding behind their computers. You bring animals into the picture, and everyone cheers up. If you add grammatically incorrect English, people cheer up even more."