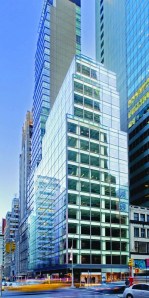 CB Richard Ellis has been chosen as the exclusive leasing agent at 545 Madison Avenue, a gut-renovated, LEED Gold-certified tower in the Plaza District.
CBRE (CBRE) will take over leasing on June 25. Previously, a Jones Lang LaSalle team was in charge of leasing the office space.
Robert Flippin, Howard Fiddle, Sloane Rhulen, Gregg Rothkin, Paul Milunec, Rima Shpolyansky and Kerry Powers, all of CBRE, will be assigned to the property.
"CBRE is excited to be representing LCOR at 545 Madison Avenue," said Mr. Flippin in a statement. "The building is perfectly situated in the heart of the Plaza District and boasts numerous amenities that make it highly attractive to a variety of quality tenants. In addition to its LEED Gold certification, the building features outdoor terraces, significant power and generator capacity and reasonably priced overtime services."
LCOR, the building's developer and landlord, along with BlackRock Realty, completely renovated the building in 2008, replacing the mechanical and heating systems, and achieved LEED certification. Lehman Brothers was also part of the partnership that renovated the building.
Software company iRise and financial services provider CS Tang have signed leases at the building in last few months.