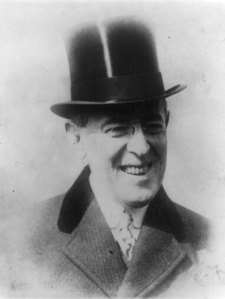 GREENWICH – Onstage for an intimate interview with Gov. Chris Christie in a hushed auditorium here at the local elementary school, Fox News personaility Neil Cavuto pressed Christie on the issue of the presidency.
Christie's already said he doesn't want it, and he again explained. Four kids. Likes going home every night. Loves Jersey. Ready for this job now. Wants this job now.
Then Cavuto mentioned Woodrow Wilson, who proved an aggressive enough one-term governor to catapult himself into the White House.
"No one would confuse me with Woodrow WIlson," Christie deadpanned of a predecessor whose presidential lankiness rivaled only Abe Lincoln's.
A skinny man contest between Number 16 and Number 28 would probably prove a coin toss event.
"I don't have the desire, nor do I think I'm ready," the governor added.
"You already have more experience than Barack Obama (did when he pursued the presidency)," Cavuto said.
"That doesn't mean I'm running," shot back Christie. "I want to be governor of New Jersey. I feel challenged by it."
Cavuto suggested Christie might consider being somebody else's running mate.
"Is there anybody around here who thinks I can be a number two anything?" the governor wondered.