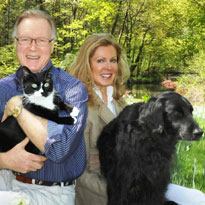 Tomorrow, Chuck Scarborough's dog Oliver will be honored at a luncheon in Garden City, New York, for reportedly saving the Scarborough family cat Stanley from a marauding coyote.
From the NBC press release:
North Shore Animal League America is honoring NBC4 New York/New York Nonstop's 'New York Nightly News' anchor Chuck Scarborough's fearless dog, Oliver, with the Lewyt Humane Scarlett Award for Animal Heroism on Wednesday, June 9 at its 2010 annual Lewyt Luncheon.
Oliver, without regard for himself, saved their cat Stanley from the clutches of a coyote. Oliver stood his ground until Stanley the cat was able to escape to safety. Oliver's act of bravery reflects the very spirit of this heroic award.
An incredible story of heart, heroism and the exemplification of selflessness for one pet to another. The Animal League believes that the actions of this extraordinary dog to save the life of his sibling, Stanley the cat, reflect the very spirit of this award. We would like to acknowledge Oliver's incredible bravery honoring him at the 2010 Lewyt Luncheon.