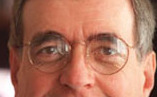 Last weekend New York Times public editor Clark Hoyt gave his column over to Jill Abramson to talk about blogs. This weekend he will say goodbye.
It's been a wild ride for Mr. Hoyt!
"I don't have any regrets about it. It has been fascinating and endlessly interesting," Mr. Hoyt told Media Matters during a recent interview.
He was The Times' third public editor since the position was created after the paper's Jason Blair scandal.
Mr. Hoyt described himself as a "shock absorber." O.K., sure.
How will we remember him? Choire Sicha and Tom Scocca summed up his reign pretty well, we thought.