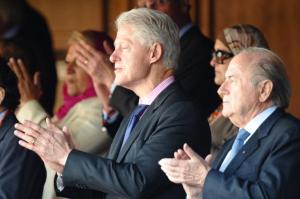 Who better to cheer the United States' surprise goal in the 92nd minute this morning–which saved the team from the brink of elimination and pushed it into the next round–than the Comeback Kid himself?
"I'm proud of you because you didn't let the frustration of all the shots that you almost made get you down," Bill Clinton told the U.S. locker room after the game, in a wonderfully back-handed compliment. "You are amazing!"
Reports Salon's (and The Observer's!) Joe Conason:
The team then invited Clinton alone to join them in the inner locker room, where he could be glimpsed toasting them with a beer amid much additional hollering. When he emerged ten minutes or so later, he had a broad smile and a hoarse voice.
It's a comeback kind of day.