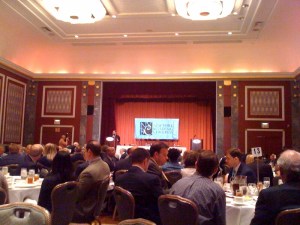 New York Building Congress President Dick Anderson is mad at state legislators, and he's showing his anger by hiding his wallet.
At a Building Congress event Tuesday at the Hilton, with Congressmen Jerry Nadler and Mike McMahon fielding questions on potential federal funds for transportation and infrastructure, Anderson began the discussion announcing that the Building Congress is no longer passively waiting for Albany to pass a state budget. He said that the group, which represents the construction industry, has instead for two weeks halted all of its political donations to the state legislators in protest.
"Seriously, this is a very, very serious issue," he said at the luncheon. "We need a state budget and we need it now."
Anderson told reporters after the forum that the Building Congress typically contributes around $20,000 to $25,000 a year, and that he recently turned down three requests. (The group sent a note to members urging them to withhold contributions late last month). He added though that the losses are potentially far greater with members participating in the protest as well.
"By not passing the budget, they are only postponing the inevitable," he said, pointing out that his effort has gained some traction with other organizations withholding campaign funds.
He made his plea very directly in his opening remarks: "It's something of great concern for us and our industry. All of you–please consider not making political contributions until they pass the budget. It's the least we can do."
In response, McMahon, in the start of his speech, felt the need to begin with a quick disclaimer. A "freshman member" to the New York City congressional delegation, he said he wanted to assure the audience members eating salads and drinking iced tea that his office is not part of the Albany crew that deserves the cold shoulders.
"That is a federal office that is in Washington," he said to clarify. Mr. Anderson, he said, "was talking about Albany politicians–state government, not federal. … Can we make that clear?"
To reporters asking McMahon about this after the forum, he added that anyone has the right to halt contributions, and that it can be one effective way to take a stance. "If they are not getting results, they have the right to let them know," he said.
Though the forum focused on potential future stimulus funds for infrastructure, the seemingly perpetual delay of Moynihan Station, and the role of public-private partnerships, Anderson returned again to the topic of Albany–this time, seeking advice. Followed by some chuckles in the audience, he asked the two congressmen, "Do you have any advice on how to deal with the problems in Albany?"
Nadler said that there are institutional problems–mainly, no margin of error with only 32 members of one party. He interrupted McMahon's answer to add, "Probably the most important thing is campaign finance reform."
McMahon said there needed to be more competition, citing that four out of five well-funded state legislators from Staten Island don't even currently have opponents.
And, McMahon said, the media could be a bit harder on Albany.