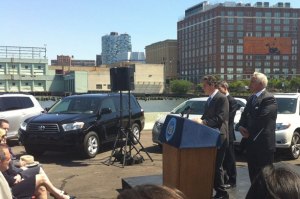 The scene Attorney General Andrew Cuomo depicted Wednesday in Chelsea evoked, as one reporter noted, an episode of The Wire.
Speaking on Pier 54 by West 14th Street, Mr. Cuomo and members of the New York City Police Department unveiled the latest fruits of a high-tech fight on crime: Seventeen cars stolen by an organized crime ring that sent its loot to Africa for black-market sale.
The investigation, dubbed "Operation Trans Atlantic," was complete with hushed informants, secret videotapes and a crime ring that took very specific orders from its customers—delivering the exact color, make, year, model and even accessory package that customers in Senegal wanted.
In total, Mr. Cuomo alleges the group stole hundreds of vehicles from New York City, New Jersey and Connecticut. Thirteen of the cars were wheeled out to Chelsea for the occasion: Speaking on the pier, Mr. Cuomo stood in front of a red Range Rover Sport and a silver BMW 750il, both worth well over $50,000.
"If you're thinking about stealing a car in New York State, don't even think about it," he said, "because the same result will happen over and over and over again."
The group allegedly employed mechanics from Toyota dealerships in Greenwich, Conn., and New Jersey, and purchased intricate computer hardware from the Internet that allowed them to cut fresh keys and program them to the cars in order to access the vehicles with minimal damage. The chip used in most vehicles to verify a key is about the size of a pack of gum and can be bought on the Internet for $50, said Det. Christopher Connolly.
Mr. Cuomo accused the group of housing the cars in four garages in the Bronx and loading them into metal shipping containers, three at a time, for delivery to Senegal. Those that remained in the United States were issued forged papers and sold on the black market here.
Seventeen individuals from New York and New Jersey were named in the indictment and charged with crimes ranging from Enterprise Corruption (a class B felony) to criminal possession of stolen property (a class D felony).