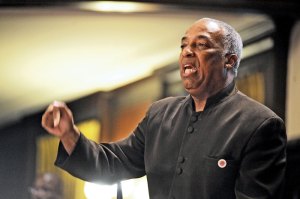 "This is the 21st century, what are we doing with a state structure that looks just like the State of Mississippi structure in 1950? This is ridiculous," City Councilman Charles Barron told the Transom Monday night, shortly after his plan to run for governor had trickled out to the press.
A week earlier, Mr. Barron wrote an article for the Amsterdam News: "Mississippi Returning: New York State Dems Choose White Leadership."
Mr. Barron was upset that Attorney General Andrew Cuomo passed over minority candidates and filled the last slot on the Democratic ticket with Rochester Mayor Robert Duffy.
"I thought it was a slap in the face," said Mr. Barron, who lost by 10 points in a primary race for Congressman Ed Towns' seat in 2006. "You got 30 to 40 percent of the state is black and Latino, 62 percent of the city is black and Latino, but then you see that the governor will be white; the lieutenant governor will be white; the two U.S. senators-Gillibrand and Schumer; Dinapoli, the comptroller, white; the five AG candidates, white. So, I mean, it's just ridiculous that he couldn't give up the lieutenant governor's position? That doesn't make any sense."
Mr. Barron, a former member of the Black Panthers who incensed some on the Council recently when he compared the living conditions in Gaza to Nazi death camps-after previously angering people by, among other things, entertaining Zimbabwean President Robert Mugabe at City Hall-said he was recruited by fellow activists as someone who might be able to get the 50,000 votes needed for a new party line.
The early reports were that Mr. Barron-in keeping with the Mississippi theme-would name his new line the New York Freedom Democratic Party, paying homage to the Mississippi Freedom Democratic Party, which protested the state's all-white delegation at the 1964 Democratic National Convention.
"We might just name it the Freedom Party. We're moving toward that, so we don't have a whole lot of names in the name," Mr. Barron said. "We're going to tell people that it's time for us to work like Fannie Lou Hamer, who was disrespected by the State of Mississippi and started the Mississippi Freedom Democratic Party, and now we've been disrespected by the State of New York."
Mr. Barron seems to be the most outspoken among black leaders concerned about the diversity in Mr. Cuomo's camp. A group of influential leaders reportedly met recently-without Mr. Barron-to quietly discuss the subject.
Mr. Cuomo is still trying to reassure some in the black community after his 2002 run for governor against party stalwart H. Carl McCall.
"He tried to sabotage our chances then," said Mr. Barron. "We have no reason to give our blind support to the Democratic Party."
A new line would seem to help Mr. Barron's future prospects. He's currently in his third term on the Council, and some believe he still covets Mr. Towns' Congressional seat.
But it's unclear how much anger is out there for Mr. Barron to tap into. In a recent survey, black voters viewed Mr. Cuomo favorably by a margin of 69-18, better than the margin for white voters.
"A lot of our people are going to stay home," Mr. Barron said. "And now we're saying you don't have to stay home. You have an option. Vote for your dignity. "