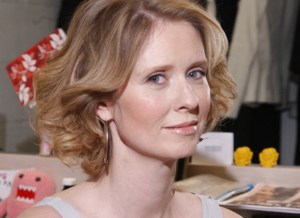 With the exception of perhaps news about Eliot Spitzer, it's been a quiet summer thus far with regards to television — and, no, that Jake and Vienna broke up after finding "true love" on The Bachelor doesn't count. So greet this bit of casting news with as much excitement as you can muster: Cynthia Nixon is headed to Showtime's new series, The Big C.
Fresh off batting away scathing reviews for Sex and the City 2, the erstwhile Miranda will play the best friend to Laura Linney's cancer stricken lead in a recurring guest star role, which will mark the first time since Sex and the City that Nixon has appeared on cable television. Her casting also makes The Big C even more of a must-see. Besides Linney and Nixon, the new series also features Idris Elba, Oliver Platt, Gabourey Sidibe and Brian Cox.
Between The Big C, Weeds (which added Jennifer Jason Leigh and Alanis Morrisette to the cast once again this season) and Nurse Jackie, you have to wonder why Showtime seems to have cornered the market on strong, female roles, while other cable channels (think: HBO) have not. Whatever the reason, it'll probably be a good idea to re-subscribe to Showtime before too long. The Big C premieres August 16.