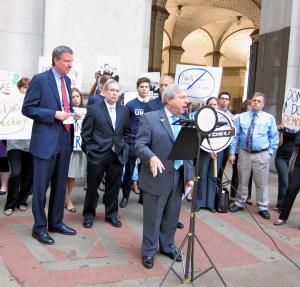 Outside New York's Municipal Building on Wednesday, Public Advocate Bill de Blasio stood at the podium–backed by Manhattan Borough President Scott Stringer, Brooklyn Borough President Marty Markowitz, and former comptroller Bill Thompson–to dismiss the notion of nonpartisan elections.
The charter review commission–assembled by Mayor Bloomberg to fulfill a 2008 promise he made to the City Council, when it allowed him to run for a third term–recently announced it would study the issue, as part of an ongoing series of forums.
The mere suggestion was enough to rile some of the city's top Democrats.
"Nonpartisan elections undermine our democracy," said the towering Mr. de Blasio, who appeared to have something of a sunburn. "They create a system that is dominated by wealth, suppresses voter turnout and makes it harder for minority candidates to compete."
Flanked by 30 rallying supporters with signs painted with large money-symbols, the public advocate cited Mr. Markowitz as an example of the merits of the current two-party system.
"Right now, regular New Yorkers get to serve in office," Mr. de Blasio said. "Look no further than Marty Markowitz, who, I might say, didn't come from wealth or fame."
Mr. Markowitz nodded in agreement.
"I think we can all agree the two-party system has served America and served New York pretty well," Mr. Markowitz said.
Why all the fuss now–when the convention won't issue its recommendations until later in the summer?
"As the saying goes, an ounce of prevention is worth a pound of cure," said Mr. Stringer.