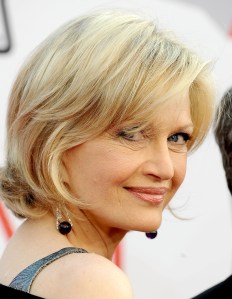 Howard Kurtz shadowed Diane Sawyer while she was running around during a day of production for ABC World News at the network's studios on Columbus Avenue.
To start the day, Ms. Sawyer looks like a "64-year-old housewife in need of a cup of coffee," wrote Mr. Kurtz.
Later Mr. Kurtz showed Ms. Sawyer ducking in here, tweaking a story there, running up those stairs, lifting that piano. "Nearly everyone has a story about her stamina," he wrote. That is, Everyone knows she's a workhorse after 11 years on the early shift at Good Morning America.
There is one interesting, and timely, moment in the Mr. Kurtz's story. Ms. Sawyer interviews Michael Hastings about his Rolling Stone article and she mentions the fact that she used to date Richard Holbrooke, special envoy to Afghanistan and Pakistan. In Mr. Hastings' piece, General McChrystal complains about emails from Mr. Holbrooke.
Ms. Sawyer called Mr. Holbrooke "brave" and "inexhaustible." "I don't know how to explain to people how we can have a personal connection to someone and still be a reporter. They either think we're lying or we're automatons," she said.
It's an interesting quotation, considering that today Mr. Kurtz also wrote about the end of Dave Weigel's career at The Washington Post. The lesson there: Being a real person gets in the way of being a journalist, or at least keeping a job in journalism.