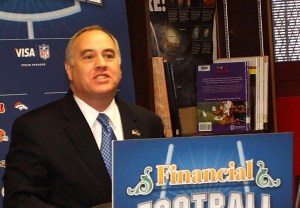 State Comptroller Tom DiNapoli is going after the less-than-loved oil giant BP.
DiNapoli announced this morning that his office would seek to be a lead plaintiff in a class action lawsuit against BP. The office recently estimated that the state pension fund, which owns BP stock, lost about $30 million in value on account of the oil spill. In a statement, DiNapoli suggested the suit would argue that the oil company was misleading about its preparedness to contain a spill, a contention made by at least one of the other class action suits to pop up thus far.
"BP misled investors about its safety procedures and its ability to respond to events like the ongoing oil spill and we're going to hold it accountable," DiNapoli said in a statement.
The move would seem ripe to gain some attention, as it seems this is the first major pension fund to announce that it is suing BP over the spill.
DiNapoli, a former Assemblyman who was appointed to his job in 2007, is facing what many in the political world view to be a formidable challenger in Republican Harry Wilson come the fall elections.