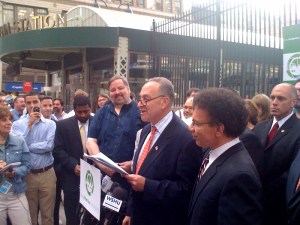 "Finally, we have a doctor in the house!" Dean DeVita of SEIU 32BJ told a crowd on Friday afternoon.
With a slew of medical metaphors, Senator Chuck Schumer and union representatives gathered around Penn Station to share their diagnois of the current maladies facing mass transit and the federal remedy they hope to offer.
"When recession hits, mass transit has pneumonia," Schumer told a crowd clogging the street. "We all know mass transit is the lifeblood of our city."
Schumer, along with seven of his Senate colleagues, is currently sponsoring a $2 billion emergency aid bill, separate from stimulus funds, called the Public Transportation Preservation Act of 2010–with the New York metro region receiving close to a quarter of the total. The bill—aimed at saving public transit jobs, service routes and fares—would siphon around $345 million to the "NYC-NJ-CT urbanized area," based on existing funding formulas.
This legislative push comes just weeks before the Metropolitan Transit Authority is slated to make service cuts across the city, in an attempt to close its $800 million budget gap. The pending cuts—which threaten bus lines in every borough—would save the M.T.A. an estimated $93 million in 2010.
Schumer's legislation is designed to create a longer-term fix and may not address the imminent service cuts, though, if passed, it could help avoid future fare hikes.
"One of the big problems is that there's a limited federal budget. But for me, it's a priority," he told The Observer after the press conference.
Transport Workers Union Local 100 President John Samuelsen called mass transit the "veins and arteries of our city," saying that federal money could help the M.T.A. rehire the roughly 500 station agents that it recently laid off. "They need to hire them back right now."
Amalgamated Transit Union International vice president Larry Hanley said that this legislation is important because, though the federal government spent more on public transit last year than ever before, the money was often earmarked for capital projects and not to help avoid cuts and losses. "This is a national crisis," he said.
And Schumer told reporters that federal support is necessary, because, "we can't rely on the state very much these days."
"Without a bill, there is not much hope at all," Councilman Jimmy Vacca, chair of the Transportation Committee, told The Observer. Vacca said he was not confident that there would be progress on the federal level before the approaching cuts at the end of the month, even though legislation is desperately needed, since the recession is not over for transit. "I'm worried there'll be another round of cuts," he said.
For one worker who was watching the conference, the need for federal help is urgent. "I'm struggling to pay my mortgage bills," said Linda Harrison, an M.T.A. worker who was laid off in May. "They have the money, they need to put us back to work."