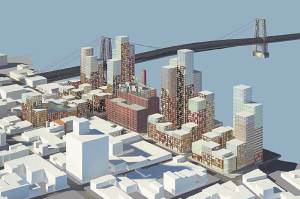 Shortly before 10 a.m. on Monday, a large group of Brooklynites sporting uniform yellow T-shirts collected on the steps of City Hall for a rally. As a few stragglers joined it, Councilwoman Diana Reyna, standing at the base of the group, aside U.S. Representative Nydia Velazquez, gushed about the $1.2 billion housing development slated to rise on the former Domino Sugar refinery on the Williamsburg waterfront.
"The New Domino project has affordability, open space, and will create hundreds of new permanent jobs," Ms. Reyna said, reading from prepared remarks over a small podium with a microphone bank. "We have come to an equitable compromise benefiting all parties involved, and I strongly support the New Domino Sugar."
The developer has become enmeshed in a growing Brooklyn rivalry between Mr. Lopez and his allies on the one side, and on the other Ms. Reyna, Mr. Lopez's onetime chief of staff, who later turned on him.
And with a few more remarks, just 10 minutes after it started, the rally was swiftly ended.
"We have a hearing that's going to start, and I don't know if there's any questions that have to be asked today-right now," Ms. Reyna said, overstaying her reserved time on the steps. "They're kicking us out."
Next up, minutes later, in the exact same spot, were Ms. Reyna's political adversaries, Assemblyman Vito Lopez, the Brooklyn Democratic party chairman, and his protégé, the energetic freshman councilman Steve Levin.
The boyish-looking Mr. Levin pumped up a similar-size crowd with a new cast of characters, holding colorful signs that protested the New Domino development.
"Affordable housing, YES! Forty Stories, NO!" he chanted. Mr. Levin had had it with overdevelopment. "We don't have any of the infrastructure in our neighborhood to withstand it, and we don't get to stay here. That's not fair."
Such is the debate over New Domino, the grove of brick-and-glass-speckled apartment towers planned for the site of the onetime sugar refinery just north of the base of the Williamsburg Bridge in Brooklyn. The developer, CPC Resources, is in a fiery battle to win the City Council's approval to build up to 2,200 apartments on what is the largest remaining undeveloped parcel along the transforming Williamsburg waterfront.
But as with seemingly everything in the world of Brooklyn development, all of the issues that have dominated the dialogue over New Domino for at least three years-affordable housing, contextual development, community jobs-are hashed out under a cloud of political wrangling, an engaging sport of its own in Williamsburg.
In the Council, Mr. Levin is at the center, facing a test of whether he can exact sufficient concessions from CPC. He has used strong rhetoric to push for lower building heights and a greater number of affordable units, and has signaled to other council members that he would vote against the project if CPC doesn't budge.
If he cannot force such concessions, the question is whether Ms. Reyna and other members can mount enough of an insurrection to override Mr. Levin and approve the project. On land-use matters, the Council typically defers to the local member, in this case Mr. Levin.
THE NEW DOMINO development was destined for a fight the minute CPC bought the 11-acre refinery in 2004 for $55 million. Shortly thereafter, the city rezoned much of the rest of the Williamsburg/Greenpoint waterfront, the refinery excluded, to install residential towers in the place of the industrial shoreline-the rezoning itself a battle with critics who decried the influx of luxury condos.
CPC's parent company is a nonprofit overseen by many of the city's major financial institutions-it counts Bank of America and JPMorgan Chase as investors-and it develops significant amounts of affordable and market-rate housing in New York and elsewhere. It did not have small ambitions for New Domino, and crafted a plan for 2,200 apartments, first announcing its proposal in 2007.
Cognizant of the local elected officials' and community groups' appetite for affordability in the area, the developer offered to set aside 30 percent of the apartments-660 units-as below market rate, a high offer given that most developers stick to 20 percent.
Now, nearing a Council vote in July that will make or break the project, CPC finds itself at the opposite end of the table from Mr. Levin and his self-described mentor, Mr. Lopez, both of whom are pushing for affordability levels the developer says are unfeasible.
And at the same time, CPC has become enmeshed in a growing Brooklyn rivalry between Mr. Lopez and his allies on the one side, and on the other Ms. Reyna, Mr. Lopez's onetime chief of staff, who later turned on him. The two have been at odds now on the past three major development projects in north Brooklyn, going back to the city's planned 1,900-unit affordable development at Broadway Triangle in the southeast corner of Williamsburg, and including New Domino.
With Broadway Triangle, Ms. Reyna and a set of community groups (chiefly now on her side in New Domino) were in an opposite position, strongly pushing to block the development, which Mr. Lopez supported. Ms. Reyna and her allies won a surprisingly high 10 protest votes in the Council against the project, which was approved but is now being challenged in court over issues of racial discrimination.
On New Domino, both Mr. Levin and Mr. Lopez, the Assembly's housing committee chairman, who frequently pushes for more affordable housing, have staked out something of a traditional role for the local Council member, opposing the project in an attempt to get the developer to agree to a set of demands. The two chiefly want more affordable units (40 percent); fewer total apartments; lower tower heights (30 stories, not 40); and a developer-funded bus service to Manhattan. (The developer says the project, planned during the boom period, cannot afford all this.)
In recent days, Mr. Levin and Mr. Lopez have turned up the rhetoric criticizing the project-perhaps an effort to get more concessions or perhaps a sign that a deal may not come easy.
"We don't want to see a gold coast on the waterfront," Mr. Levin said. "I think we can get as much or more affordable housing from a smaller development."
BUT FOR MR. Levin, there is political pressure to strike a deal of some sort, both from the many Council members who simply want to see more affordable housing citywide, and from Ms. Reyna, who is not timid in her adversarial stance.
The councilwoman, who represents the neighboring district, charged that Mr. Levin is simply playing to the anti-development crowd and is blind to the benefits of the development.
"I think people have a very difficult time understanding what is the issue that would allow for Council Member Levin to be able to support the project, considering that there's so much being offered," she said by phone Monday. "The most affected constituency is within my district. He is catering to the needs of those that have opposed in the past any type of rezoning and who would want for perhaps the remaining areas … to be rezoned for their self-interest in property value."
Ms. Reyna initially was against the development when it was first announced. She said she was ultimately swayed, however, by changes the developer made, including the addition of homeownership apartments.
Mr. Levin, asked about the skirmish with Ms. Reyna, declined to snipe, only taking a subtle jab at her change in position. "I have had the same position on this development," he said. "The point of taking a reasonable position is that it's easy to stand by because it does not change with the political winds."
However the negotiations go between Mr. Levin and CPC, the firm has clearly played the political game well up until this point.
CPC executives, led by senior vice president Susan Pollock, won over numerous religious and nonprofit groups, which lauded the affordability levels. CPC has hired at least four consultants to handle relations with the city, politicians and the neighborhood, including Kasirer Consulting and Geto & deMilly. All told, the developer has paid at least $1 million in lobbying expenses since 2006, according to filings.
As to where the project goes from here, CPC must now negotiate with Mr. Levin to see if there is, indeed, a deal in which he and Mr. Lopez are willing to participate in.
"We have engaged in incredibly intense community involvement for over five years," Ms. Pollock said. "We genuinely hope to engage in a dialogue with them in the coming days and reach accommodation on this, because it would be in no one's interest to see this go down."
ebrown@observer.com