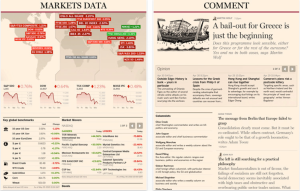 The Financial Times was the first news organization to win a "Best iPad App" award at the 2010 Apple Design Awards last night.
The award recognizes the broadsheet's handsome digital pages full of content curated by editors and customized by the user (and the decision to stick with a pink background on the iPad). The Markets and Data page in particular is both nice on the eyes and brimming with data.
FT's app, which is free to download but requires a subscription, was downloaded by 150,000 iPad users in the first three weeks after it launched, according to a release from the FT.
LONDON: 9 June 2010: The Financial Times last night won an Apple Design Award for its iPad app. One of only five winners, the FT app was the only news app to be included at the ceremony held at the Apple Worldwide Developers Conference in San Francisco. The Apple Design Awards recognise iPhone and iPad OS applications that demonstrate technical excellence, innovation, technology adoption, and quality.

The FT iPad app has already proved hugely successful with 150,000 downloads in the first three weeks of launch. The iPad app has also had a positive impact on the bottom line, with twenty per cent of all FT.com subscriptions coming through the app in the first weeks of availability.

Rob Grimshaw, managing director of FT.com, said: "We have been delighted by the success of the FT iPad app to date and initial downloads and average session lengths continue to exceed our expectations. The Apple Design Award is the icing on the cake."

The app is available for free and is integrated into the FT.com access model whereby registered users will have access to 10 free articles a month before having to subscribe. Luxury watchmaker Hublot will continues to sponsor completely free access to FT content through the app until 31st July 2010 following free registration.

Key features of the app include the ability to:
· Download the daily FT to your iPad for offline reading
· Access content across all sections of FT.com, fully customisable so users can order key sections of the application interface – including World, Companies, Markets and more
· View the FT's award-winning high quality video content, including the latest updates on markets and interviews with high profile CEOs each morning. This is the first time the FT has offered video on one of its mobile products.
· A dedicated Markets Data section, including macromaps highlighting markets across the world, with the option to also view regional indices and company information sheets
· Full access to view personal investment portfolios
· Read top 'must read' stories of the moment for the iPad edition, determined by the FT editorial team