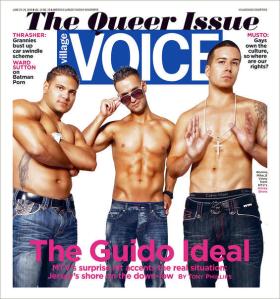 For the Village Voice's cover story this week about down-low Guidos, photographer Carrie Schechter shot Ronnie Magro, Vinny Guadagnino and Mike "The Situation" Sorrentino, personalities from the MTV reality show The Jersey Shore.
Did anybody involved know the photographs were for the cover of the newspaper's queer issue?
"I didn't know, so I doubt anyone knew," Ms. Schechter told The Observer.
"They just wanted me to take beautiful pictures, they wanted me to sculpt the light," she said. "That's all I knew."
Ms. Schechter had nothing but nice things to say about Mr. Magro, Mr. Guadagnino and Mr. Sorrentino.
"I want them to get more money and success because they're just great people and they deserve it," she said.
One more thing: "These guys are 100 percent straight men. They walk outside and women materialize."