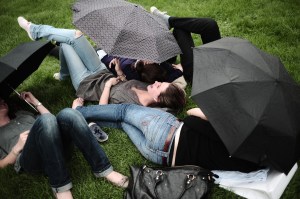 Ralph Gardner has a story in the Wall Street Journal's Greater New York today about Central Park's Great Lawn: the place where kids from all the private schools uptown go after class to smoke and drink 40s of malt liquor. The kids also enjoy the occasional frozen margarita from the man who sells bottled water.
Reporting this story was more difficult than it sounds.
Mr. Gardner and his photographer Benjamin Norman thought they were covering kids sitting on grass. They severely underestimated the lengths to which a Brearley Beaver will go to defend her lodge.
Among the youngest teenagers assembled on the Great Lawn were a bunch of ninth-graders from Brearley and Dalton, two schools not especially known to socialize (Brearley is a single-sex girls' school, Dalton co-ed). "We all went to pre-school together," one of them explained, insisting their names not be used. Indeed, I understand that after I departed they gave my photographer, to whom I'd like to take this opportunity publicly to apologize, a hard time, demanding he delete any photographs of them. (And there are few things scarier than private-school kids demanding whether you know who their parents are, and who their parents know.)
There are few things scarier than this. We're glad everyone is safe.