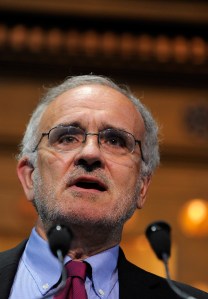 Last night at UCLA's Loeb Awards for business journalism on the Bowery, The New York Times, Vanity Fair and CNBC all took home two awards. Even The Wall Street Journal, which has sworn off caring about awards since Robert Thomson came in, got a piece of the action. The Journal's deputy managing editor Alix Freedman won the Lawrence Minard Award for an editor who does not receive a byline.
In addition to The Times' two awards—which went to David Pogue for blogging, and Michael Moss and Andrew Martin for their Pulitzer-winning article about contaminated hamburgers—Times staffer Andrew Ross Sorkin won for his book Too Big to Fail, and assistant investigations editor Walt Bogdanich took home the lifetime achievement award. Mr. Bogdanich has three Pulitzers, one from The Journal in the '80s and two from The Times in 2005 and 2008. Mr. Bogdanich shared a Loeb in 2008 with two other Times reporters.
Big Short Michael Lewis and Joseph E. Stiglitz won for Vanity Fair.