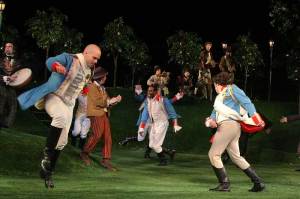 Those turning to craigslist for their secret, depraved, Shakespeare-related needs may have to look elsewhere this summer. Attorney General Andrew Cuomo made a deal with the Web site yesterday that will remove all posts advertising professional line sitters for Shakespeare in the Park.
"Selling tickets that are meant to be free deprives New Yorkers of enjoying the benefits that this taxpayer-supported institution provides," Cuomo told the Daily News. In the past scalpers have charged between $80 and $150 dollars for their services, a veritable pound of flesh.
As this 2008 Times article details, past efforts to stop "Craig's List" sitters came from the Public Theater and haven't been remarkably effective. Their methods rellied on remembering repeat offenders' faces in a crowd of 1,800. Halting the craigslist postings at the source offers at least a revived hope for shorter lines.
Cuomo's crackdown comes just in time, as Al Pacino—who has been stalking Jews to research his Shylock—is sure to draw a crowd. My kingdom for a lawn chair!