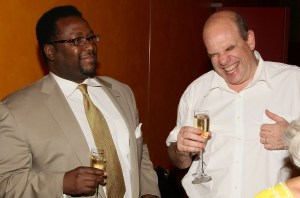 Many reporters (Canadian ones, at least) are following in the hallowed footsteps of crime-reporter-turned-Wire-creator David Simon, reports Canada's Globe and Mail. Journalism no longer has the same sense of stability it once did–and besides, writing for TV is fun!
"As an ink-stained scribbler the last 10 years, I've sat in the same chair in our family room, eating ham sandwiches, very much alone." says [writer David] Eddie, a journalism graduate from Columbia University, who also pens an advice column for The Globe's Life section. "But working on The Yard is a lot of fun and very social. . . . We've had a lot of laughs, pinning cards on a wall, bantering jokes back and forth. To be honest, this is the best time I've had in years."
Neel Shah may on to something.