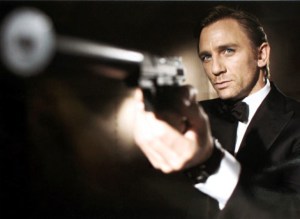 Unless you're Nikki Finke and/or Mike Fleming, keeping track of how the floundering MGM continues to flounder while it's up for sale is probably low on your list of concerns. But as savvy pop culture devourers, it might be a good idea to start getting a bit riled up. In fact, the list of movies being shelved, tossed into development hell or simply forgotten about because of the studios financial woes is pretty impressive—at least compared to the dreck in theaters this summer. Below, find the five films that will hopefully find life even if MGM doesn't.
The Hobbit
Whether you love The Lord of the Rings trilogy or find it to be pompous nerd bait, one thing is undeniable: Those movies are successfully epic on a scale that few films have been in the last 20 years. It goes to reason that The Hobbit could follow suit, especially if Peter Jackson winds up directing, as rumored. Of course for that to happen, there would need to be a budget and money to pay said budget, but those are semantics! Here's guessing some other studio figures out at a way to make this movie—and its sequel—happen by 2015.
The Next James Bond
James Bond will return in Don't Hold Your Breath. The next Bond film was put on hold "indefinitely," meaning that established talent like Sam Mendes and Daniel Craig will probably have to move on. Upside: New Bond rumors!
The Three Stooges
If it feels like you've been hearing about the Farrelly Brothers attempt at The Three Stooges with Benicio del Toro and Sean Penn in lead roles for years, that's probably because you have. Alas, prepare to hear about it for a little bit longer. Still, if this fever dream project ever does happen, expect it to be awesome.
The Materese Circle
Back in February 2009, Tom Cruise had his pick of the studio litter … and wound up choosing Knight & Day (then called Wichita). But The Materese Circle still feels like the best film out of that lot. At the time, Cruise, Denzel Washington and David Cronenberg were working on the project—a spy thriller from Robert Ludlum that would be oh-so-prescient because of the fact that one of the characters is a Russian spy. How 2010!
Cabin in the Woods
It's a horror movie in 3-D—so, demerits—but this one has Richard Jenkins and Bradley Whitford playing the leads who may be baddies, a bunch of fresh-faced youngsters in a cabin and dialogue courtesy of Joss Whedon. Man, poor Whedon—can't that guy ever catch a break?