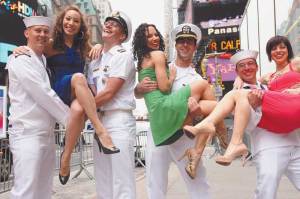 "Fleet Week is my favorite holiday," a 20-something woman confessed to a sailor at Off the Wagon on Macdougal Street, which, at midnight on Saturday, May 29, was bursting with Navy officers in dress whites. Apparently, a not-insignificant number of New Yorkers agree.
Classic rock played over the sound system as Marines played beer pong in the back. Within minutes of ordering dollar drafts of watery Budweiser, we were invited to join three sailors from the U.S.S. Iwo Jima, one of three ships docked at Pier 88 near Times Square. With curfew fast approaching-the boys have to return to their ships, where they continue to bunk for the duration of Fleet Week, by 2 a.m.-Dave, 30, a stocky, jovial petty officer 1st class from Virginia, made a show of removing his wedding band (while assuring us that "every three months or so I drive 600 miles to see my wife").
The boys have to return to their ships, where they continue to bunk for the duration of Fleet Week, by 2 a.m.
But the ring removal was more gag than come-on, and this group seemed more like work buddies unwinding after a long shift than the more popular reputation of sailors on shore leave-that of drunken horndogs. When I asked what the trio had done in New York so far, Dane, 23, a lanky seaman from St. Louis, offered a lopsided smile and held his pitcher aloft. (Later, one of the beer pong officers-surely a man to be trusted-informed me that more than 45 days at sea without a port call earns the crew a beer day, but that, far from a hedonistic kegger, a "beer day" allots a mere two beers per man.) Across the table, Alejandro, 21, a baby-faced airman from Texas, leaned back, his half-lidded, hiccupy stupor recalling the Mad Tea Party Dormouse from Alice in Wonderland. "The kid, he's a lightweight," Dave laughed. "I'm going to end up carrying him back to the pier."
The sailors didn't seem to know anyone else at the bar, save for a middle-aged bottle blond in a miniskirt that they had seen around town.
"That's the cougar!" Dave cried. "Watch out!"
We all watched as she installed herself at a corner in the back of the bar. The men then turned their attention to a group of younger women sitting nearby. The women flirted back appreciatively, but I later heard one say that the sailors she saw earlier in the day at F.A.O. Schwartz were cuter.
"Most women just want to try on the hats," Dave says. "Not that we mind."
"We get a lot of smiles," Dane added. "Some whistles."
"And free beers!" Alejandro piped up from his corner, which seemed to remind him to refill his.
We learned that enlisted men (and women, although there were none in sight) are required to travel in groups-a grown-up government version of the elementary-school buddy system-but no further security measures are taken. They may take photos with civilians and tipple to their hearts' content, so long as behavior "doesn't become inappropriate," Dave said. Speaking of which, we also learned that Dave is kind of handsy (I, too, am married, and had to remind him that our two wedding rings do not cancel each other out). After some furious cross-table texting, my friend Meghan left with Dane for a pre-curfew make-out in Washington Square Park. (She abandoned him soon after but saved him for posterity in her iPhone contacts list as "Dane Sailor.") Alejandro, increasingly drunk, asked me repeatedly if I was Puerto Rican, apparently a reference to some heavy-handed bronzing on my part.
At last call, the waitress brought over complimentary shots of Malibu rum and pineapple juice that tasted faintly of novocaine-a bad idea, but not as bad as agreeing to pose for a Time Out New York photographer while wearing Dave's hat, which really was irresistible.
ulamarche@observer.com