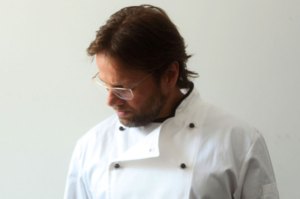 Former Times food critic Frank Bruni has inspired a low-budget torture porn flick. More specifically, the film is inspired by his tepid criticism of a Gordon Ramsay restaurant.
Eater points to the newly released trailer for Bitter Feast, a movie about a TV chef who receives a bad write-up and kidnaps his reviewer. On the movie's Web site, the film's writer and director, Joe Maggio, explains how Bruni's failure to get worked up over Ramsay's London Hotel planted the seeds of the script:
The origins of BITTER FEAST go back to June, 2007. I was reading a Frank Bruni review of Gordon Ramsay's first New York City restaurant, "London Hotel." There was a lassitude in Bruni's writing that gave you the sense he liked the food, but wanted to dislike it, and so he delivered this odd, middling, lazy review, ultimately con- demning it for lack of what Bruni considered "the most important thing of all – excitement." It struck me that this was totally ridiculous and unfair. Then I started thinking what I would do to Frank Bruni if I were Gordon Ramsay. After many strange imaginings, I concluded that more than anything else, what Ramsay would prob- ably want is to somehow force Bruni to live in Ramsay's shoes for a bit, to teach him empathy, to force him to care about cooking with the intensity that Ramsay cared about it, and then to randomly and arbitrarily shit all over Bruni's dreams. Thus, BITTER FEAST.
The trailer below doesn't make this movie seem very good. "You just don't get it," says Mario Batali, who is in it for some reason and speaking of a negative review on a food blog. "This is a disaster." (0:35) "Am I a person of interest?" The creepy chef asks a man who is clearly not a police officer. (1:10)
Bruni's real-life disputes seem far more interesting! Remember when Jeffrey Chodorow took out a full-page ad in the Times opposite Bruni? Or those posters that circulated in high-end restaurants in an attempt to catch the mysterious taste-maker? But like all good critics, we'll wait before passing judgement.
via Eater