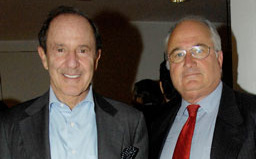 Fred Drasner, a former business partner of Mort Zuckerman, is in talks with the Washington Post Co. to buy Newsweek, according to Keith Kelly.
Mr. Drasner brings the number of interested parties to five, after the first round of letters of interest came in last week. Mr. Drasner joins Open Gate Capital, Newsmax Media, Thane Ritchie and Sidney Harman. No word still from Thomson Reuters.
After working as a co-publisher and CEO of the Daily News and holding executive positions at the Atlantic Monthly Company, Fast Company Media Group and U.S. News and World Report, Mr. Drasner certainly knows how to run the day-to-day of a media company. That's more than other bidders can say.
Mr. Drasner irked some news staffers during his time at the Daily News by referring to the editorial side of the paper as the "cost center."
The staff at Newsweek must be used to that kind of talk by now.