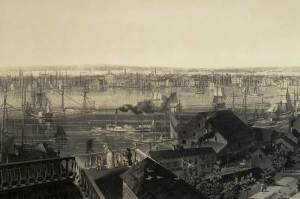 Who's the next hot young Brooklyn artist? How about collecting one of the first ones instead.
J. W. Hill arrived in America in 1819 at the age of 7 and learned much of his trade-engraving aquatints-at the Brooklyn studio of his father, British émigré artist John Hill
J.W.'s images, unlike Dad's, were of where he grew up, New York City and State. Turning into something of a Big Apple version of John James Audubon. Hill illustrated a sweeping tome on the zoology of New York State, among other natural history projects. And in 1837, he painted New York, from Brooklyn Heights, in a landscape that showed a couple and their young children gazing at the Manhattan skyline. From the family's spot at the apex of Furman Street, St. Paul's, Trinity Church, City Hall and the Fulton Fish Market are visible. The image became famous and was eventually adapted by William James Bennett into a lithograph that was printed and widely distributed by the prolific publishing firm of Currier & Ives. Interestingly, when the image was adapted for wide distribution, the clouds over the city were removed.
While Hill's works are in the collection of the Brooklyn Museum and the Metropolitan Museum of Art, the artist is largely forgotten today. (Perhaps because he ended up leaving the city to settle in West Nyack, N.Y.) This circa-1900 engraving, matted and framed, is on the block at Swann Galleries on June 17 with a presale price estimate of $3,500 to $5,000.