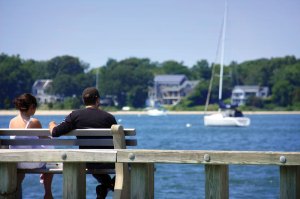 On the afternoon of Saturday, June 11, the central village of East Hampton was packed with two types: those who were shopping because it was too cold and overcast for the beach, and those who came to one of the casual eateries to watch the highly anticipated United States vs. U.K. soccer match at the World Cup.
Town eateries like Rowdy Hall, Citta Nuova and the Blue Parrot overflowed with fans, some with gelled hair to complement their U.S.A. soccer jerseys or T-shirts, others in python print stilettos and unseasonable tans.
These were not the Hamptonites The Observer dreams of at night, the glamorous aging baby boomers with homes on West End Road and beachfront properties off Lily Pond Lane. Unfortunately, that local noblesse don't seem to care much about soccer at all.
The evening before the U.S. vs U.K. game, Hamptons mascot Alec Baldwin told The Observer apologetically, "Oh, dear, I don't really care about soccer. I'm an NFL fan and basketball and everything else so-so, but not soccer." The actor, currently starring in Equus at East Hampton's Guild Hall, explained, "We're doing two shows tomorrow, so I definitely won't be watching."
That same night, Ellin Saltzman, former Glamour editor, Saks Fifth Avenue director and current Gilt Groupe Consultant, proudly told The Observer, "Isn't the U.S. playing tomorrow? I don't know about soccer, but my grandkids love it!"
Only in the past quarter-century has soccer made a permanent mark on the collective American psyche, with predominantly younger generations caring about the graceful sport, even as older sports fans remain loyal to the more traditional American sporting pastimes like baseball, football and … polo.
David Walentas, the rough-and-tumble real estate developer who owns 115 acres of equestrian land where the revered Hampton Polo matches are played every summer, similarly had a hard time with the World Cup. "I tried to watch a little, but I don't really like soccer. I mean, I didn't grow up playing when I was kid; I never got into it."
To some, the game is more like a foreign language, not understood. Asked if he would be watching any of the World Cup, which goes through July, director Sydney Lumet simply stared blankly.
Kevin Brown, the oversize actor who plays Dotcom, the intellectual member of Tracy Morgan's entourage in 30 Rock, is certainly younger than a baby boomer; in fact, he's probably the baby of a baby boomer. But he doesn't care about soccer, either! At the premiere of Equus, he told The Observer, "No, I haven't gotten into that game yet. I saw one game with what's his name, Beckham, and he was injured like the whole time! I mean, what is that?"
That, my friends, is the World Cup in the Hamptons.