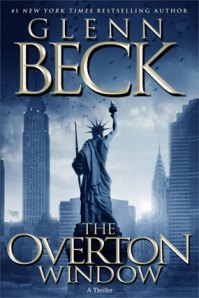 It's been a week since Glenn Beck's novel The Overton Window hit the streets and, since the weather's been nice, die-hard Beck fans have probably had enough time to finish the 336-page thriller. And it looks like their favorite passages have to do with being manipulated via television conspiracy theories.
The reviews have not been kind to the first-time novelist, but that hasn't stopped the book from selling like gangbusters. In descending order, Amazon's current best-seller list reads: Steig Larsson, Steig Larsson, Glenn Beck and Steig Larsson, and the book is #13 on the Kindle bestseller list.
The Kindle's website tracks users' most highlighted passages for any given book and a glance at Windows' popular quotes reveals that Beck's fiction sounds absorbing to a point that causes readers to lose all self-awareness. Completely out of context, here are a few passages that Beck's Kindle readers thought poignant:
– Most people simply want to be left alone; they'll go along with anything as long as we maintain their illusions of freedom and the American way. We leverage their hopes and feed their fears, and once they believe, they're ours forever

– You don't need to create a conspiracy theory to explain what's going on around
– " the man said. "What about the public?" "What about them? The public has lost their courage to believe. They've given up their ability to think. They can no longer even form opinions, they absorb their opinions, sitting slack-jawed in front of their televisions. Their thoughts are manufactured by people like me. What about the public?
There's no telling what any of that refers to, but taken alone it sounds awfully familiar. There's also this:
– "Don't be fooled, 'transformation' is simply a nice way of saying that you don't like something! If you live in an old house that you adore, do you talk about 'restoring' that home or 'transforming' it into a modern-day McMansion?
No wonder Beck's selling his house in New Canaan.