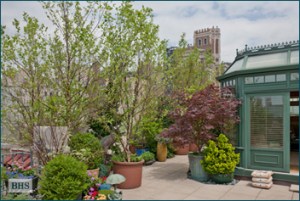 Louis Gonda made his fortune buying airplanes and then leasing them, so it makes sense that he and his wife plan to spend more time in the air now that their children have left the nest. In January 2009, the self-made scion told The Wall Street Journal that with his five children grown, he and his wife planned to do more traveling, and no longer needed the eight-bedroom Beverly Hills Georgian mansion that was then listed first for $42 million, then for $35 million.
The philanthropy-minded former Forbes 400 lister (he fell off in 2008) is now listing his Manhattan penthouse pied-à-terre at 28 East 70th Street for $16 million. Brown Harris Stevens' agents Richard Ferrari and Drew Glick, who have the listing, say that, unlike in Los Angeles, this isn't an example of downsizing but rather the opposite—the agents are currently also working to find the family a larger Manhattan abode. "They just need more bedrooms!" Mr. Glick told The Observer matter-of-factly.
The penthouse has three bedrooms. It also has a wood-paneled library with a large-screen TV that disappears, Bond-like, behind a painting at the touch of a button.
But the planted terrace is clearly the jewel in the full-floor penthouse's crown.
"I mean, it has 1,500 square feet of outdoor space with views across Central Park!" Mr. Glick said when asked what was the most unique feature of the home. The fully irrigated outdoor terrace is a bucolic anomaly in the heart of Manhattan, with large trees and a variety of flora. Off the terrace, a climate-controlled conservatory is equipped with a wet bar behind custom cabinetry.
Mr. Glick sighed. "It's a spectacularly renovated home."
cmalle@observer.com